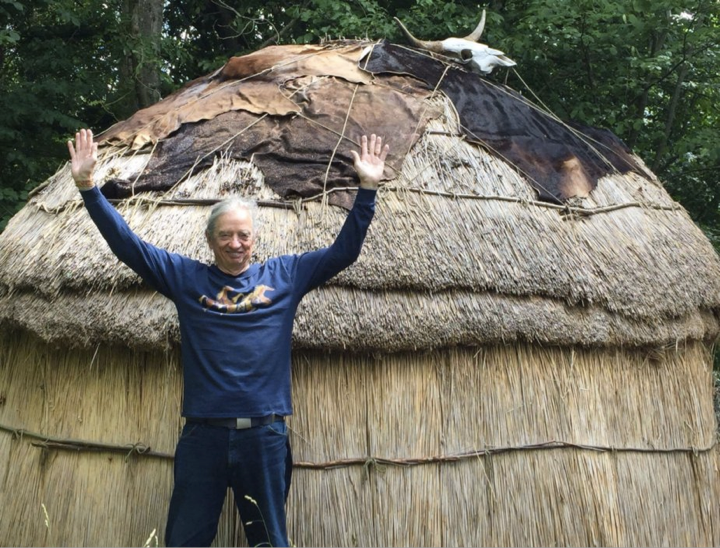 Linked in profile https://www.linkedin.com/in/davidboje/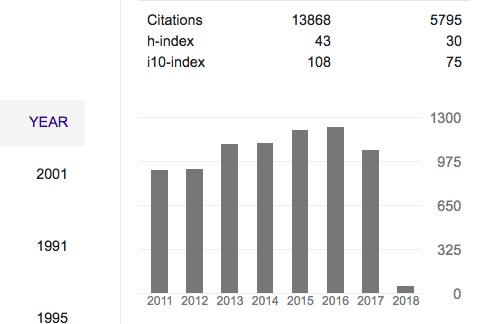 Ask Boje your question on storytelling by clicking here?
I solve problems in how your organization is storytelling its strategy, humanity, sustainability, and ethics. To ask your STORYTELLING questions I have a helpful tool: https://camo391.wufoo.com/forms/q1aia4w808kux22/ or, contact me at davidboje@gmail.com
Storytelling is an art. We are storytelling animals. Storytelling is my focus. Storytelling is what I do in teaching, writing, consulting, and research for 35 years. See Youtube at https://www.youtube.com/watch?v=VcsPh-5QbdE I love to help people and organizations find this storytelling path. It is easy to become a character in someone else's master narrative. It is more helpful to find your own living story path. Its a matter of finding you voice. Join us at our annual conference http://davidboje.com/quantum We have a mix of storytelling consulting practitioners, researchers, and clients who celebrate finding their own living story. I work with my colleagues in Denmark in two venues. One is the Material Storytelling Lab in Aalborg University where I am said to be the godfather to the lab. Material Storytelling (Anete Strand's pioneering dissertation and lab direction), is based on Karen Barad's work (and a bit of my own), to look at the intra-activity of 'social' with the 'material'. It is part of a huge movement called 'sociomateriality.' We use the term 'quantum storytelling' to get at how there is no separation between social and material. We are both/and. In Denmark I work with TRUE STORYTELLING, a project by Jens Larson, and Lena Larson, to do storytelling bootcamps. True Storytelling is possible in consciousness raising boot camps of self-transformation and critical reflexive inquiry into our own habituated thoughts and actions within micro-physics systems, and embedded macro-political systems of power. It is possible to recover an agency of resistance to normalization under the detailed disciplinary technologies of the institutions we work in.
I hope to see you at our events. To get on our mailing list, click here. David
Get on list for upcoming Storytelling Events
He lives in New Mexico where in his spare time he is an amateur blacksmith artist. He is a member of STRADA, the Strategic Analysis Discourse Group at NMSU. He was awarded an honorary doctorate from Aalborg University, Denmark in 2011 for his contributions to quantum storytelling.
He is founder and president of Standing Conference for Management and Organizational Inquiry| and the new annual conference on Quantum Storytelling each December http://bigstoryconference.com. He is founder and past editor, Tamara Journal and Chair of the NMSU Sustainability Council. He is former Bank of America Endowed Professorship of Management (awarded September 2006-2010), and past Arthur Owens Professorship in Business Administration (June 2003-June 2006) in the Management Department at New Mexico State University Department of Management, New Mexico State University, Box 30001, MSC 3DJ Las Cruces, NM 88003-8003 | Phone 575.532.1693; Fax 575.646.1372; e-mail:


Home pages http://business.nmsu.edu/~dboje | Quantum Storytelling and Ontological Storytelling pages http://davidboje.com/quantum| see the new Film, Boje, D. M. (2012d). , Quantum Storytelling: Blacksmithing Art in the Quantum Age, Video accessed May 25, 2012 at http://www.youtube.com/watch?v=a7pm_mRwL-0 ;
June 2014 - Business Outlook article profile on D. Boje
Some doctoral colleagues I mentor: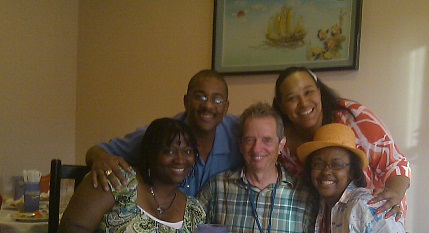 Krisha, Al, David, Carla & Wanda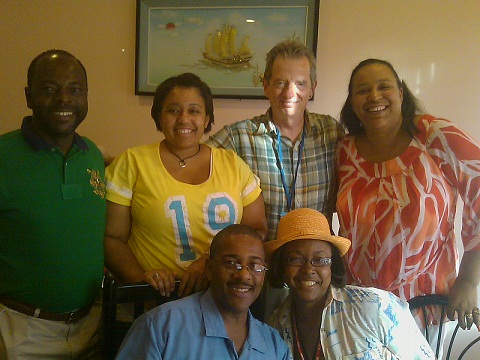 Ted, Pamela, David, Carla & seated Al and Wanda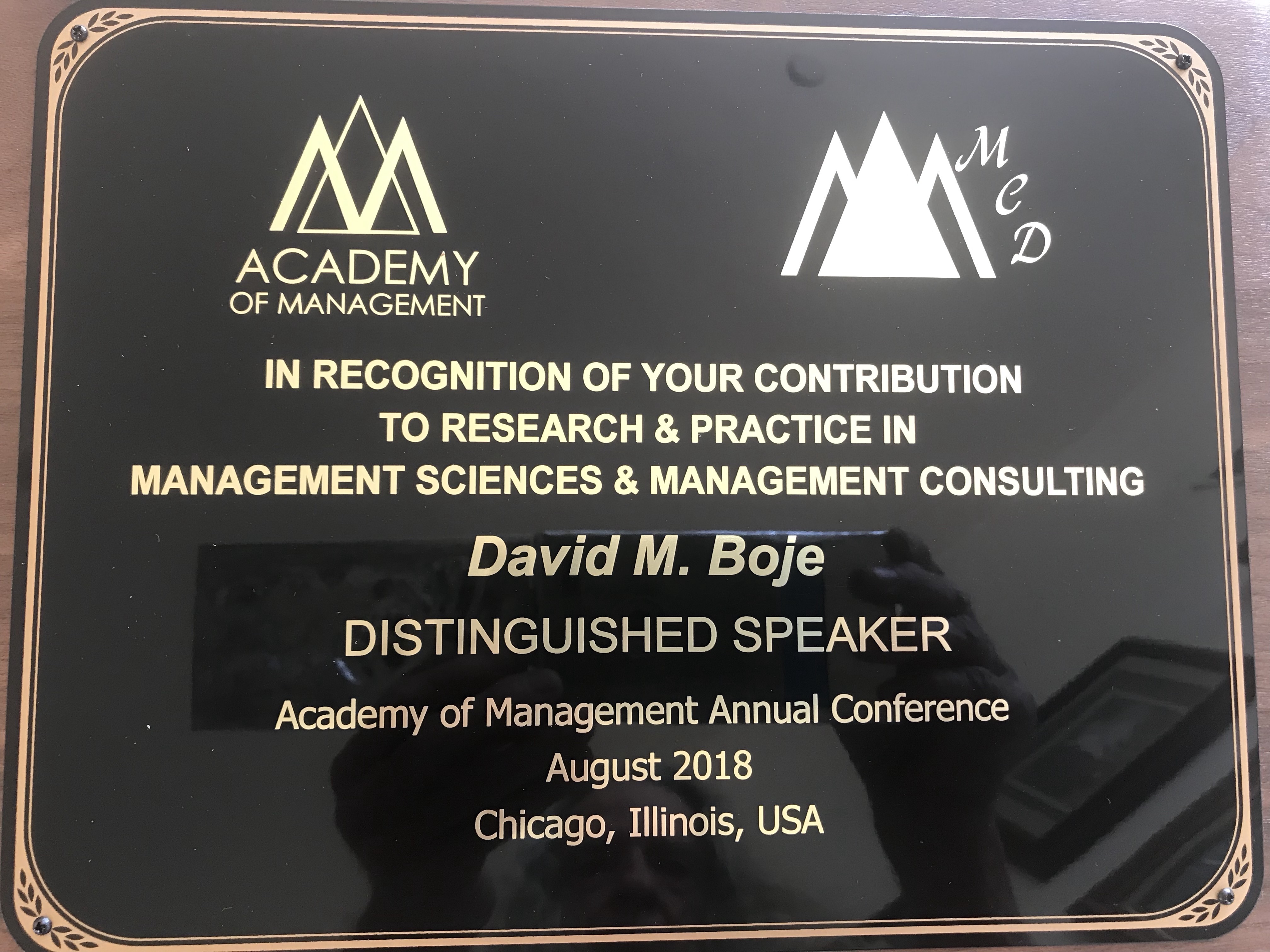 New Zealand http://davidboje.com/Canterbury critique of Triple Bottom Line and Globalization

Scotland http://davidboje.com/Strathclyde/Â How Storytelling is used in Globalization to make us believe there is no alternative

Italy http://davidboje.com/Italy/ How to change Globalization so humanity is not the 6th Extinction

Denmark: http://davidboje.com/Aalborg/Â What is True Storytelling when we are in the Eye of the Hurricane, watching people tumbling into Globalization's Extinction of Humanity

Denmark Copenhagen TRUE STORYTELLING AS CONSULTATION TOOL - Slides David Boje & Jens Larsen 'Old Friends Industries' Presentation to 65 public executives and managers on Wed May 16, 2018

Paris Keynote at FNEGE 2018 Â http://davidboje.com/Paris/Â What will awaken people to the nightmare of globalization? A 'true' storytelling of the Mother Earth Economy is a viable solution to preadatory economy models of globalization.

Finland 24-30 May 2018 seminar on 25 May http://davidboje.com/Finland/

Lyon http://davidboje.com/Lyon/Â presentation to ODC International meeting of Acaemdy of Management How socioeconomic appraoch can change the direction of globalizaiton

Greece 9 June to 4 July 2018

New Mexico 5 July to Aug 5 to Teach

Keynote to Southern Denmark Aug 6 to 9 2018 for conference on Narrative and Counternarrative, from Antenarrative process view

Academy of Managment - Distinguished Speaker, Chicago, August 13 2018, Consultation Division: "How Consultation Can Save Humanity from the Sixth Extinction Event," Â Boje inspires a moral reflexivity that facilitates intelligent public action in the face of the planetary boundaries for life on Earth. By developing counter accounts, hidden costs, and qualimetric consultation, we can encourage transformative change for a 'true storytelling' of corporate social and planetary responsibility.Â


The name "David Boje" was mentioned in 1,833 PDFs recently uploaded to Academia (May 4, 2018).

Boje has always applied his theoretical insights to practical activism in local communities. In the 1990's he worked with the Los Angeles Nickerson Gardens public housing community so that community members could have a greater role in the management and daily operations of the community. He helped to initiate the first-ever partnership between the Gardens, the Peace Corps, and Loyola Marymount University. After moving to his current home at New Mexico State University in Las Cruces, NM, he established a university-wide minor in Sustainability. He was named a "Mover and Shaker" by the local newspaper for his work with local arts groups. Now he wants to change wealth inequality.

More recently, Boje has worked with homeless veterans, helping them to establish a "Veterans Theatre" where the homeless themselves are the actors on stage performing crowd-pleasing and heartbreaking yet humorous stories. Boje helped them create the scripts from a patchwork of the homeless actors own real-life experiences. He also works with postdeployment veterans using his "Restorying" methods, sand tray props, and equine-assisted restorying techniques. His latest work is with the Coalition of Immokalee Workers (CIW), agricultural workers who have experienced abuses to the point of enslavement. He is a great fan of their highly-effective "Worker-Driven Social Responsibility" (WSR) and what he and Rosile call their egalitarian "Ensemble Leadership" approach to organizing. In 2017, Boje marched with the CIW in pouring rain to protest Wendy's Corporation continuing refusal to sign a fair-labor-practices contract.

In his spare time, Boje rides his horse Lucky Boy with wife and colleague Grace Ann Rosile, and creates art in his blacksmith shop with hot forging of iron as well as cold hammered copper wire and metal. Rosile and Boje's family includes a cat, 2 dogs, and 4 horses.

My new project: ONTOLOGICAL RESEARCH METHODS: As visiting scholar I travel worldwide doing faculty and doctoral student seminars in storytelling research methods known as 'relational process ontologies'. There are multiple ontologies that form ontologic-assemblages, particular combinations that co-constitute at least eight streams of 4th Wave Grounded Theory. see book due to publisher March 2018 http://davidboje.com/655/ORM_Storytelling_in_Action_BOOK/index.htm and annual Storytelling Methods Conference in Las Cruces http://davidboje.com/quantum

My three areas of community engagement:
SMALL BUSINESS CONSULTING. Mgt448/Mgt548 is one of two universities in US with MOA between NMSU and Lyon III University and ISEOR Institute to teach socioeconomic consulting. In past 19 years approximately 350 student teams have engaged in service learning with the community by providing free consulting services to business and non-profit organizations. This includes reversing downward spiral into strategic changes to unleash human potential in lowering costs and enhancing revenues by doing project implementation and evaluation. http://davidboje.com/448
VETERANS THEATER: Students are engaged with Veterans Theater project, doing service learning, working with veteran and homeless actors putting on original plays about veterans and homelessness issues. Along with GoFundMe the plays raise donation money needed to develop veteran tiny home ecological village on campus, another for homeless veterans and homeless in city of Las Cruces, and an equine-assisted psychotherapy and restorying treatment center for veterans and families, post-deployment family-reintegration. Â I am part of community veterans organizations (Veterans Advisory Board to Mayor of Las Cruces; American Legion Post 10, Vietnam Veterans of America #431; American Legion Riders) to keep project opportunities happening. It produces interdisciplinary research and a faculty and student team developing research grants to NSF & DOD to bring our 'embodied restorying process' of working with veterans and family members for post-deployment reintegration to resolve being stuck in past traumas (PTSD, TBI, and/or military sexual trauma) in order to create new story of family system future. See Jeanne Flora, David Boje, Grace Ann Rosile, Kenneth Hacker (2016) Journal of Veterans Studies. http://veteranstheater.com
GREENING NMSU CURRICULUM: Engaged in 'Greening the Curriculum' at NMSU by being two-time Chair of Sustainability Council, working for reaccreditation of NMSU Gold Star rating for second time (received August 15, 2017), $50K grant for developing sustainability minors across all colleges, sustainability scholarships in each college, working a table at career fair in Fall and Spring to introduce employers and students to sustainability at NMSU, and bringing about the formation of our dream, a School of Sustainability at NMSU, in cooperation with City of Las Cruces and green companies locally. Student service learning projects in Mgt375v (sustainability audit, viewing wider world course) and Mgt 448/Mgt548 (small business consulting course) and Mgt375v (Leadership & Society viewing the wider world course) work on service projects such as bicycle sharing, tiny homes ecological village, City of Las Cruces sustainability audit, and so forth. http://greening.nmsu.edu
Daivd Boje is founder of Tamara Journal of Critical Organization Inquiry. I have published journal articles, many in top tier journals such as Management Science, Administrative Science Quarterly, Organization Studies, Human Relations, Academy of Management Journal, etc. It is said he isamong the most cited scholars in the College of Business at New Mexico State University. In August 2017, 1509 papers recently uploaded to Academia.edu mention the name, "David M Boje". He is anan amateur blacksmith and a shamanic practitioner and facilitates a monthly Shamanic Drumming Circle in Las Cruces, New Mexico. http://davidboje.com/shamanic My published work is available online at http://davidboje.com/vita.