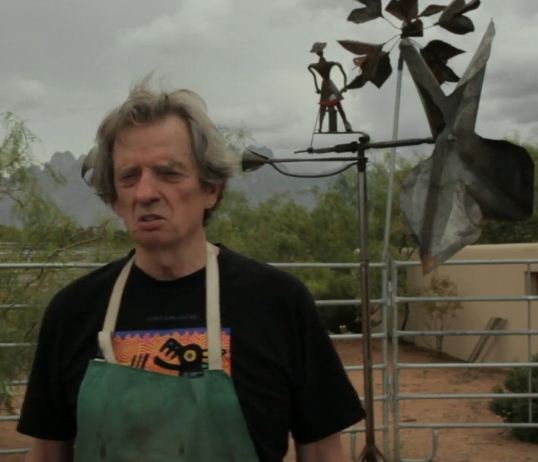 Blacksmithing helps me forge new ideas about the 'Storytelling Paradigm' shift in STORYTELLING A SUSTAINABLE FUTURE'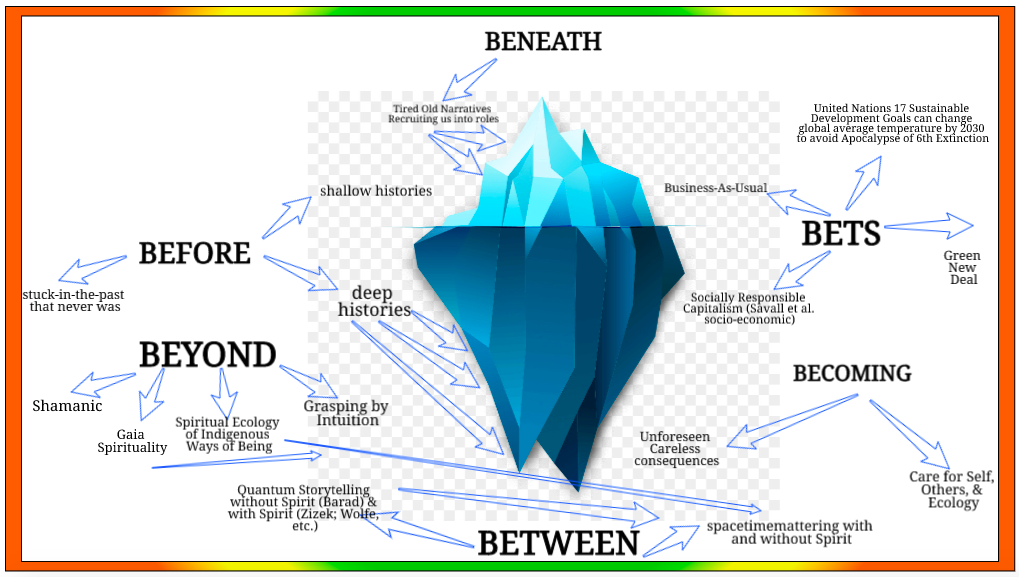 What is storytelling in six sentences?
1. Beneath are the grand narratives of organizations, capitalism, and societies disciplining and punishing us to be an Abstract character that is not I.
2. Bets on the future that are either Futuring the status quo of Business-As-Usual (BAU) or the more daring bets of new pathways to avert 6th Extinction consequences of BAU.
3. Becoming of Care by our moral answerability to intervene in the Futuring troubles of living in multispecies storytelling.
4. Between of infrastructure in the reality of spacetimemattering of things Being-in-the-world Grounding our human activities.
5. Beyond of our grasping of spiritual coming into the world from many other worlds Rehistoricizing the present.
6. Before of many Rehistoricizing histories, some that never were, and others that are Defracting into multiple prisms of our awareness because of some future that is not yet, but could become a new history of the present.
PART I: What is new in 'storytelling science' that could avert the 6th Extinction? and
PART II: Business Schools and 6th Extinction Scenario (Slides fo the November 2019) Keynote at the Storytelling symposium session is planned on Thursday, Nov 14, at 10h30 till 12h, room1102, at Kedge Kedge Business School (Adresse : 680 cours de la Libération 33405 Talence) symposium at the Annual meting of the Association of Human Resource Management in France (AGRH"), Bordeaux France


These Salmon no longer exist to feed the Brown Bears due to the Business School Prime Directive of Profit trumps Planet and People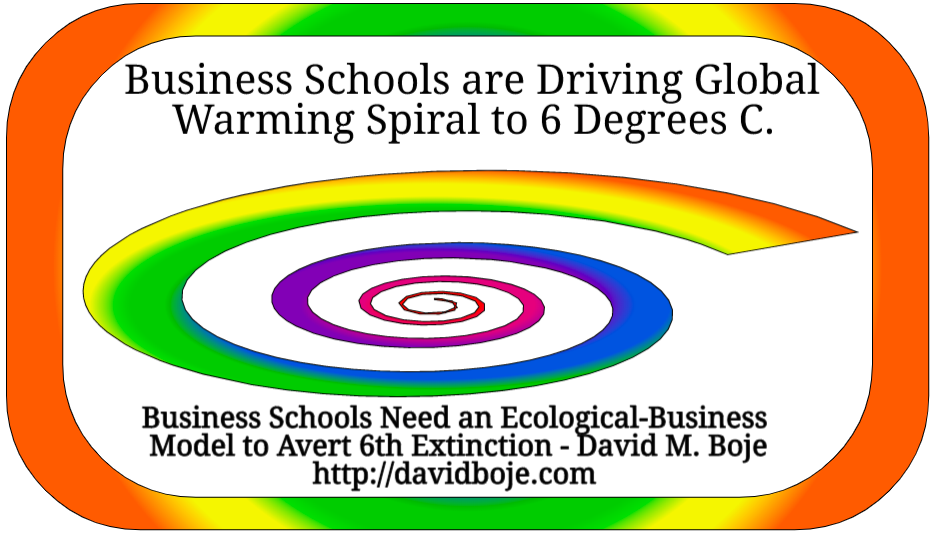 Business Schools need to be Morally Answerable for Global Warming of the Planet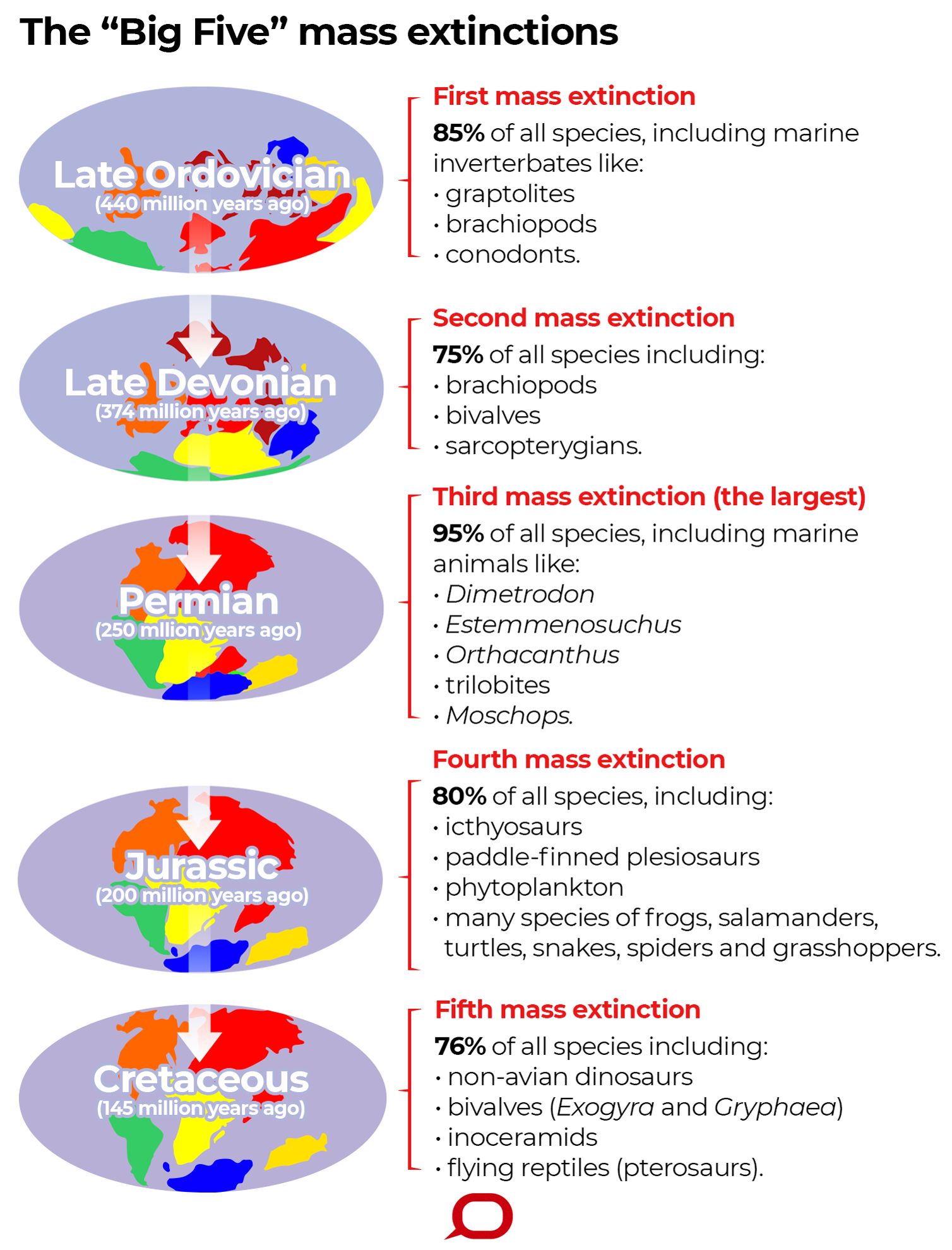 Business School Teaching is bringing about 6th Extinction HERE and NOW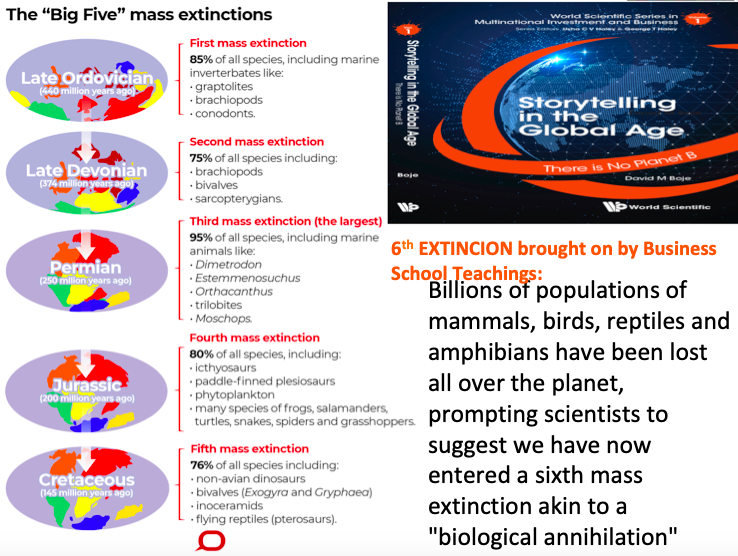 Boje's book details connection of Business School Teachings & 6th Extinction that is HERE AND NOW


What's new in Storytelling? A path to True Storytelling Argumentation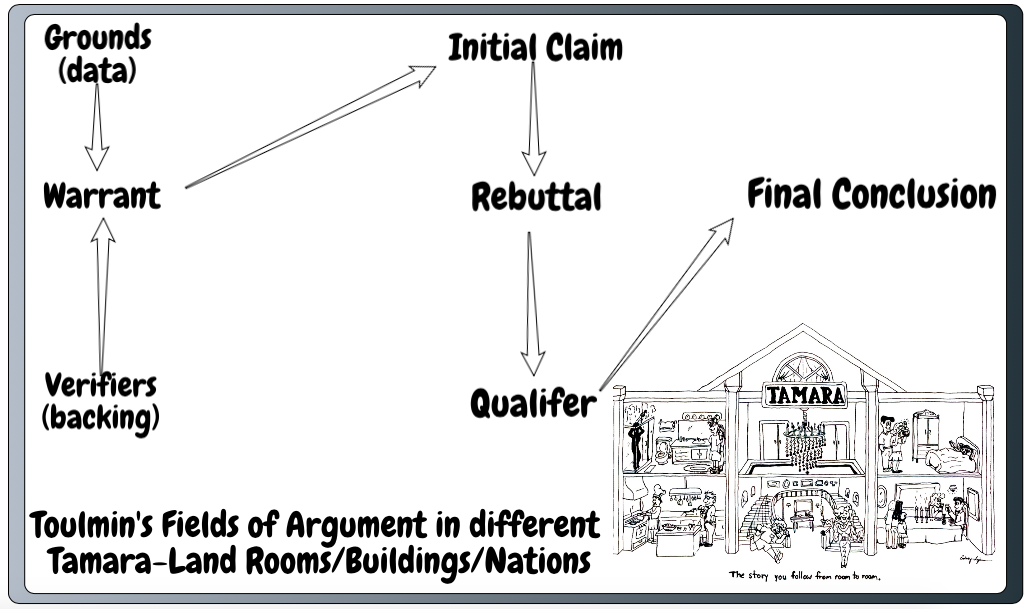 slides for The Dark Side of Psychology of Make Believe in the Face of Global Heating
A presentation to the Psychology Department New Mexico State University 3:30 PM 107 Science Hall Sept 27 2019
Can politicians (governments) shake loose from being beholden to corporate interests and can consumers and producers leave carboniferous capitalism behind? My 'True Storytelling' final conclusion is we need the tough laws that came after the criminal trials of the tobacco industry. Many of their PR consultants work for the oil lobby and are strategists for the echo chambers of climate denial and the fake storytelling news media.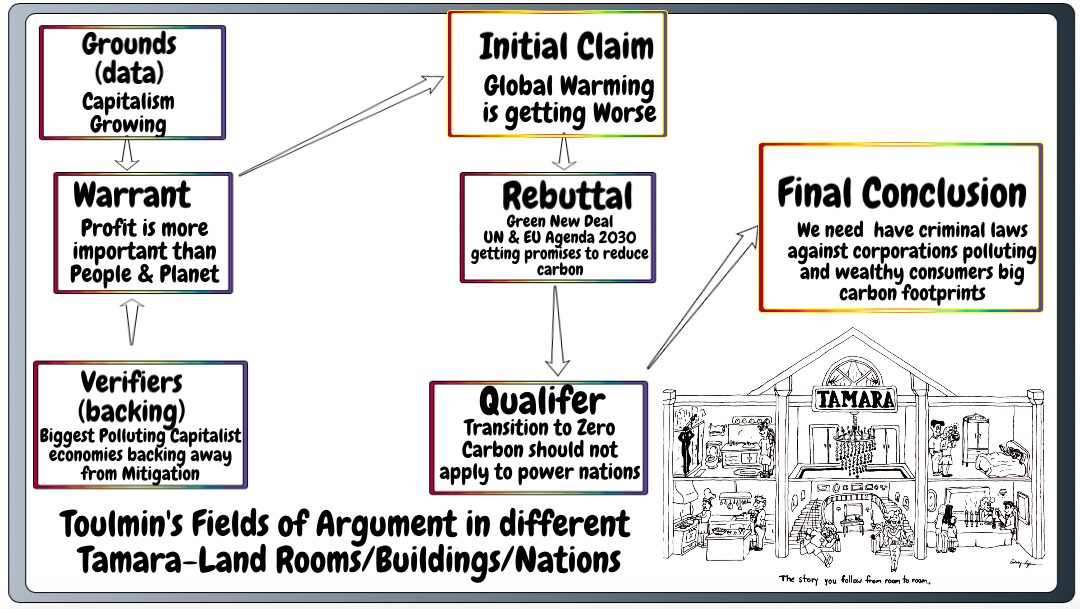 Please join us for the Annual Quantum Storytelling Conference Las Cruces, New Mexico
December 15, 16, 17, and 18, 2019
https://davidboje.com/quantum

Please join us for the
McMurry University's "Water is Life" Storytelling Conference
Water is More Valuable than Oil
Abilene, Texas
March 18, 19, and 20, 2020 https://davidboje.com/Abilene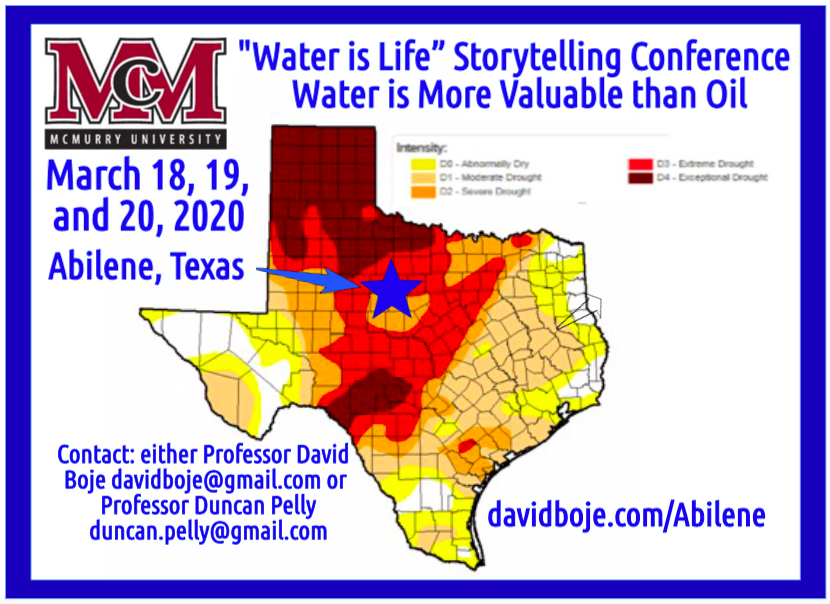 Please join us in EGOS 2020 in Hamburg July 2-4 (Click here for our EGOS Track on Storytelling a Sustainable Future)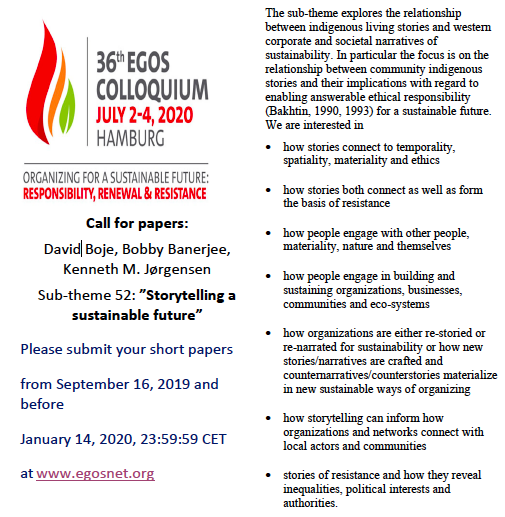 Please join us for the WEIMAR EUSG GAIA STORYTELLING 2020 15018 April https://davidboje.com/Gaia/GAIASTORYTELLINGFORGAIALEADERSHIPWEIMARVILLAI.html


BOOK: Storytelling Interventions in Global Water Crisis
Book remains online until published by UK/NY: Singapore: World Scientific Press
By David M. Boje
See website https://davidboje.com/water

I am Editor-in-Chief for the Business Storytelling Encyclopedia

We have three sets of volume we intend for a paradigm shift in business storytelling. I have recruited the best storytelling editors for each volume. Please contact them if you have an article that you want to submit. The project will take submission all of 2019 and we will get peer reviews done in 2020 and have this out in press for 2021.



Set 1: "Corporate and Business Strategies of Business Storytelling" (set sub-title) "A World Scientific Encyclopedia of Business Storytelling" (overall title)

Business Storytelling Socioeconomics - Amandine Savall Lyon ISEOR Institute SAVALL Amandine <amandine.savall@iseor.com>




Business Storytelling of Entrepreneurship - Associate Professor Duncan Pelly <duncan.pelly@gmail.com> Abilene University, Texas




Business Storytelling in Ensemble Leadership - Grace Ann Rosile Professor Emeritus, New Mexico State University, garosile@nmsu.edu




Business Storytelling and Strategy - Yue Cai - Yue Cai "Yue C. Hillon" <ycaihillon@gmail.com> Associate Professor, Western North Carolina "Yue C. Hillon" <ycaihillon@gmail.com>




Business Storytelling and Change Management - Mark Hillon, <mehillon@gmail.com> independent consultant and Ph.D. in socioeconomic change management




Business Storytelling and Communication - Independent research scientists and Ph.D. Jillian Saylors, <

jrwsaylors@gmail.com

>

Set 2: "Methodologies and Big Data Analysis of Business Storytelling"(set sub-title) "A World Scientific Encyclopedia of Business Storytelling" (overall title)

Business True Storytelling - Jens Larsen - Independent Consultant and Ph.D. <info@oldfriendsindustries.com> Copenhagen, Denmark




Business Storytelling and Big Data Methods - Associate Professor Rohny Saylors <rsaylors@gmail.com> Washington State University




Business Storytelling and Grounding Methodology - Marita Svane <msvane@business.aau.dk> Associate Professor, Business College, Aalborg University




Business Storytelling, Science, and Statistics - Professor David Trafimow <dtrafimo@nmsu.edu> and editor Journal of Applied and Experimental Social Psychology, New Mexico State University




History and Business Storytelling - Prof. Albert Mills,

St Mary's University, <

albert.mills@smu.ca>


Set 3: "Ethical Practices of Business Storytelling" (set sub-title)

Business Storytelling and Sustainability - Professor Kenneth Mølbjerg Jørgensen <kmj@business.aau.dk> -Business College, Aalborg University, Denmark




Business Storytelling and Postcolonialism -

Ozan Nadir Alakavuklar

<ozan.alakavuklar@gmail.com> – Utrecht University, the Netherlands; Amon Barros <amonbarros@gmail.com>– FGV EAESP, Brazil
Nimruji Prasad Jammulamadaka <nimruji@iimcal.ac.in> – Indian Institute of Management, India;
Ana Maria Peredo <amonbarros@gmail.com> – University of Victoria, Canada



Business Storytelling and Gender-Telling - Alessio Sartore <alessio.sartore@gmail.com> Professor of Content Management &

Corporate Storytelling at IULM University, Milan, Italy




Race, Ethnicity and Business Storytelling - Jean Helms Mills - <jean.mills@smu.ca> Professor Saint Mary's University, Nova Scotia




Business Storytelling and Indigenous Wisdom - Professor Tyron Love <tyron.love@canterbury.ac.nz> Business College, University of Canterbury, New Zealand

Additional Volume
Continuity and Change in Storytelling - edited by Professor David Boje (davidboje@gmail.com> Aalborg University. This is one volume in the series for World Scientific Encyclopedia for Investment and Growth. Call for articles:
An article on our treatment of animals – e.g., whaling and Japan; SeaWorld, PETA and orcas
An article on border security and Trump's wall
An article on our treatment of indigenous peoples for profit.
An article on international trade and its effects on the environment.
An article on treatment of gender storytelling of the global situation
An article on environmental racism
An article on mining
An article on global storytelling of water
An article on exempting Fracking from Clean Air Act and Clean Water Act
An article one deception in Global Storytelling by business
An article on the complicity of the Business School in Global Storytelling deception
An article on true storytelling methodology from an ethical perspectiv
BUSINESS STORYTELLING PARADIGM SHIFT - Call for Articles
Although storytelling is the preferred sensemaking currency of business, it is past time to call for a shift in the business storytelling paradigm. The old paradigm has linear theory assumptions, tends to engage in crude methods of induction or reduce everything to quantification, without providing a method of qualitative inquiry. The old business storytelling intervention practices need to catch up with ways to get past fake storytelling and regimes of truth imposed from above to ensembles of storytelling participation. Finally the old business storytelling paradigm is wedded to 'Western Ways of Knowing' (WWOK) that has marginalized 'Indigenous Ways of Knowing' (IWOK). The new business storytelling paradigm recognizes IWOK as having more sense of place than WWOK abstract space, being about cycles and seasons rather than linear historical chronological time, and having a sense of matter existence that is in touch with the natural world, rather than reducing it to resources for sale.
We therefore seek to extend new theories of prospective sensemaking, quantum storytelling (how humans are connected to the environment, not separate), the relation of narrative-counter narrative dialectics to dialogic webs of multiplicity. We seek to go beyond earlier waves of Grounded Theory that lack both 'ground' and 'theory' to the more ontological approaches to existence. The business storytelling has a consequential role in the environment faces so many super wicked complexity problems, from climate change to gender, wealth, and racial inequity, to more wars over water.
We seek method breakthroughs such as self-correcting induction, a proposed method by Charles Sanders Peirce to deal with the crude induction. This can include methods of storytelling that incorporation ethnostatistics, qualimetrics, and critical accounting. There are socio-economic approaches to business storytelling and ways to get beyond the method bias of business to the quantification of existence to the qualitative inquiry that is more than 'crude induction.'
A new business story paradigm needs intervention practices that go beyond mere social constructivism, short-term shareholder wealth maximization, and disembodied textual narratives to the work in embodiment, critical accounts for the voiceless and marginalized, socioeconomic storytelling for socially responsible capitalism, and true storytelling principles as an alternative to fake news and fake leadership that infects the old business storytelling paradigm.
Contact David M. Boje (
davidboje@gail.com
) or any of the editors of the 16 volumes and submit an abstract of 3 to 6 pages, indicating which set and volume your article is for. For more info on the theories, methods, and interventions mentioned above see chapter 1, Boje' new book for World Scientific, at
https://davidboje.com/water
See
https://davidboje.com/Canterbury
for the downloadable book on this paradigm shift in Business Storytelling.
STORYTELLING

PARADIGM SHIFTS

WESTERN WAYS OF KNOWING
WWOK

INDIGENOUS WAYS OF KNOWING
IWOK

THEORY

Quantum Storytelling Theory

Narrative Retrospective

Sensemaking

Narrative-Counternarrative Dialectics

Ensemble Leadership Theory

Antenarrative Prospective Sensemaking

2nd Wave Grounded Theory

3rd Wave

Grounded Theory

4th Wave

Grounded Theory

1st Wave Grounded Theory

METHOD

Self-Correcting Induction Method

Crude

Induction

Quantitative Induction

Qualitative Induction

Narrative Quantification

Ethno-statistics

Qualimetrics

Critical Accounting

Storytelling Multiplicities Analyses

INTERVENTION

Socio-Economic Storytelling

Critical Accounts

Appreciative Inquiry

Text-based Restorying

Embodied

Restorying Process

True Storytelling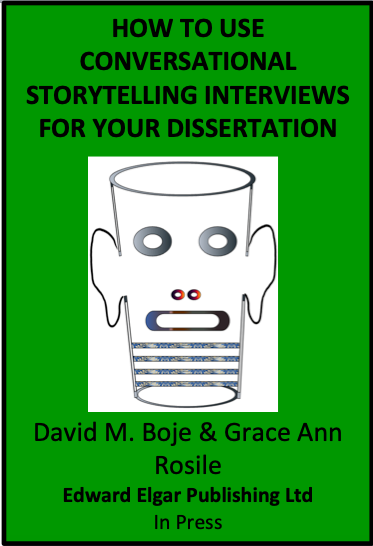 Download book draft until its published in 2020

Figure 1: Storytelling Paradigm Shift to Mitigate Global Water Crisis
A storytelling paradigm is theories, methods, and interventions for a total system diagnosis and intervention that addresses the scale of the Global Water Crisis. The idea is to begin with Ensemble Leadership Storytelling THEORY, a methodology of Self-Correcting Induction, and the intervention of 'True Storytelling.' We can then move to second column and third column theories, methods, and interventions.

Have you had enough FAKE STORYTELLING. During his 2018 world tour, David is visiting countries doing seminars on ways TRUE STORYTELLING can create alternative to Globalization that is creating the 6th Extinction (click for folder with downloadable book on How Globalization Storytelling is causing Humanity's own extinction, and what we can do about it.
New Zealand: http://davidboje.com/Canterbury critique of Triple Bottom Line and Globalization
Scotland: http://davidboje.com/Strathclyde/ How Storytelling is used in Globalization to make us believe there is no alternative
Italy: http://davidboje.com/Italy/ How to change Globalization so humanity is not the 6th Extinction
Aalborg, Denmark: http://davidboje.com/Aalborg/ What is True Storytelling when we are in the Eye of the Hurricane, watching people tumbling into Globalization's Extinction of Humanity

Copenhagen, Denmark May 16 2018 TRUE STORYTELLING AS CONSULTATION TOOL - SlidesDavid Boje & Jens Larsen 'Old Friends Industries' Presentation to 65 public executives and managers TRUE STORYTELLING
Paris: http://davidboje.com/Paris/ What will awaken people to the nightmare of globalization
Finland: 24-30 May 2018 seminar on 25 May http://davidboje.com/Finland/;
Lyon: http://davidboje.com/Lyon/ How socioeconomic appraoch can change the direction of globalizaiton
Greece 9 June to 4 July 2018
New Mexico 5 July to Aug 5 2018 to Teach

Academy of Management - Distinguished Speaker, Chicago, August 13 2018, Consultation Division: "How Consultation Can Save Humanity from the Sixth Extinction Event," Boje inspires a moral reflexivity that facilitates intelligent public action in the face of the planetary boundaries for life on Earth. By developing counter accounts, hidden costs, and qualimetric consultation, we can encourage transformative change for a 'true storytelling' of corporate social and planetary responsibility.
Southern Denmark Aug 2018 for conference on Narrative and Counternarrative, from Antenarrative process view

December 2019 - Quantum Storytelling Conference in Las Cruces

March 2019 - Canterbury University for Erskine Ethics Fellowship to work with Critical Accounting of Water

May & August 2019 - Keynotes about water and storytelling at conferences in Denmark

December 2019 - Quantum Storytelling Conference in Las Cruces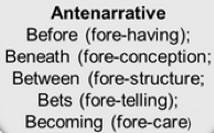 Find out the latest in Antenarrative BLOG