True Storytelling is forecaring for our future within Planetary Limits. True Storytelling is ethical praxis, a methodology, & antenarrative process of strategy. It is opposite of fake news, fake story, or fake Corporate Social Responsibility.
True Storytelling get you and your organization connected to people, places, problem spaces and spaces of solvablity, and to learning to be Sustainable with Nature.
True Storytelling is how to get connected to Nature in Seven Ways. Nature, life in your organisation or your county, is like waves, the timing of the waves, and the understanding the rhythm of waves. People have their preferences for types and sizes of surfboards. It is like 0 (body board), plus Seven Different Types and Sizes of Surfboards. The Seven True Storytelling Principles are all about the relation of your surfboard to Nature, learning to see, hear, smell and taste the waves. Finding the partial stories and the untold stories are a way to surf the waves. Not to surf just any wave, but waiting for the 'right wave' the 'true storytelling wave or waves" which transform your organization.

True Storytelling Consulting
Consulting - we help you and your organization to stay true and reach your goals
We do workshops, inhouse programs, conferences and coaching and fundraising.
Human, economic and ressources suistability are always in the center, when we work with our partners.
Our approach is the 7 principles in the True Storytelling method. By aligning thees principles we help you,
your organization and the world you live in to overcome the challenges and reach your goals by creating
ownership and commitment.
We beleive in partnership and friendship are best fondations for success.
The challenges we can help you with are for examlpe:
On a organization level
-Create ownership and commitment for a true strategy which can help your organization to reach it¬īs goals
and form a sustainable culture where the employees or students gain energy instead of burn out.
-Plan and implement a strategic educationsprogram so your employees can handle the demands from
customers, students or citizens and create a sustainable brand through storytelling
On a personel level
- Help managers on different levels to find their own¬ true story which can help the reach their goals, inspire employees and customers and gaing energy instead of burning out.
SLIDES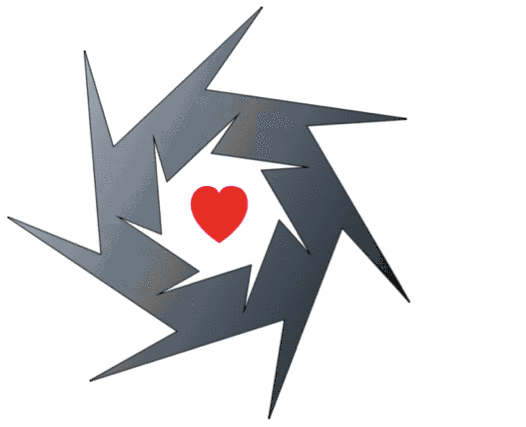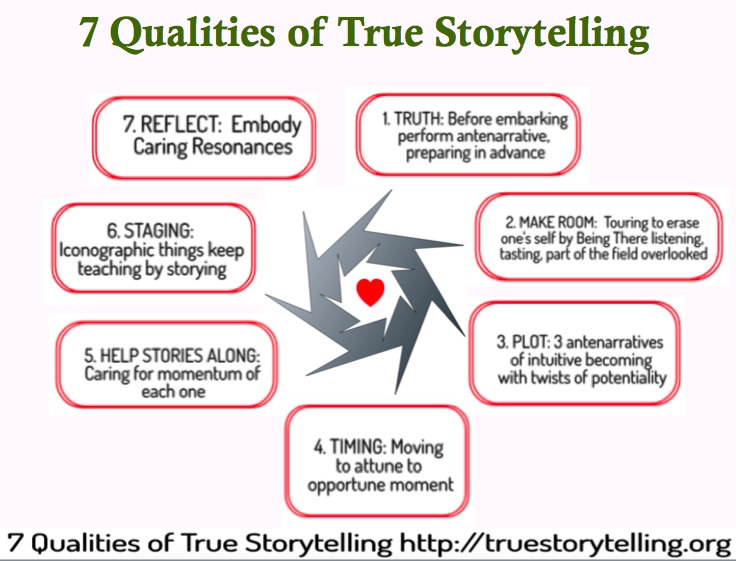 True Storytelling Model
True Storytelling builds a bridge between strategic situation and the longing for meaning of the people as the basis of ethical strategy. The Ethical Strategy is agile/flexible planning with co-inquiry. We facilitate for co-understanding of the Situation, Strategy, and Basis. Services include documentation, goals, language, and staging to achieve passion/motivation, values, and meaning.
Programs - The True Storytelling Education
We do 5 days True Storytelling Boot Camp in Denmark and the US for leaders. You work with¬ the theory
of True Storytelling and how to use the 7 principles as a tool to analyze and plan a Ētrue and sustainble strategyĒ
and how you can use the 7 principles to create ownership and commitment at all levels of the organizations or
the county.
Working with True Storytelling will bring the best of you into the light and what you have learned and experience
about leadership until now. It will help you create a fondation you can use as a compass in your work and life.
Contact us for inhouse program for leaders or teams. And chech boot camps coming up.
Who are we?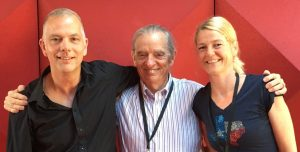 Jens Larsen, David Boje, and Lena Brunn have developed the True Storytelling Principles and a way to implement them in companies, municipalities, education, and communities.
Jens Larsen is founder of Old Friends Industries, project director to make organizations more sustainable. He writes books about ethics and storytelling.
Books by JENS LARSEN





Books on leadership and ethical


"Protreptik - filosofisk coaching i ledelse", 2008, Forlaget Samfundslitteratur, Co-written with professor Ole Fogh Kirkeby, Copenhagen Business School.





"Det Frivillige Lederskab" 2013, Dj√łf, chapter co-written with CEO Christian Stadil and L√¶rke Hein.





"Det Forstandige lederskab", 2012, Dj√łf, chapter co-written with CEO Christian Stadil, Hummel and L√¶rke Hein




Books on storytelling and ethics





"Succes og Brændte Broer", 2010, Peoples Press, biography Volvo CEO Harry Motor.





"Helle Helle og Naja Marie Aidt - portrætsamtaler", book for education Gyldendal, 2013





"Kim Fupz og Jesper Wung Sung - portrætsamtaler", book for education Gyldendal 2016





"Sangskriver - elleve samtaler", 2002, Lindhardt & Ringhof, interviewbook about creativity and in music





Jens has written articles for magazines and books about leadership, culture....
David Boje is Regents Professor at New Mexico State, & honorary doctorate, Aalborg University. He has studied storytelling process for 37 years. He writes books and research articles about storytelling methods.
Video

Books by David Boje

Narrative methods for organizational & communication research

Storytelling Organizational Practices: Managing in the Quantum Age

Critical Theory Ethics for Business and Public Administration

Storytelling and the future of organizations: An antenarrative handbook

Storytelling in Management Practice: Theory, Dynamics and Implications: Managing in the Quantum Age

Organizational Change and Global Standardization: Solutions to Standards and Norms Overwhelming Organizations¬

Being Quantum: Ontological Storytelling in the Age of Antenarrative (with Henderson)

Organizational Development and Change Theory: Managing Fractal Organizing Processes (with Henderson)

Managerial Psychology Three-Volume Set (with Yochanan Altman & Frank Bournois)

Dance to the Music of Story: Understanding Human Behavior through the Integration of Storytelling and Complexity Thinking (with Baskin)

The Routledge companion to organizational change (with Burnes & Hussard)

Postmodern management and organization theory (with Gephart & Thatchenkerry)

Managing in the postmodern world: America's revolution against exploitation(with Dennehy)

Passion of Organizing (with friends)

The Thin Book (with friends)

Readings in managerial psychology
Lena Brunn is partner in Old Friends Industries, and an experienced fund-raiser, and projects with municipality. She has created prize-winning museum for youth culture, and has been working Roskilde Festival that focuses on sustainability.
Projects - create sustainable changes in your city or state
We help you to design, fondraise and create commitment to a new strategy.
We can forexample help you to:
-Create ownership and commitment to the UN goals in a Municipality or State as a way to
create sustainable growht in health, business, enviroment, education ect.
-Create ownership and commitment¬ which bring young people into education and
and jobs for the good of the whole society
The United Nations Bottom Up True Storytelling Project
We work with organizations and communities to prioritize the UN sustainability goals. We facilitate face-to-face meeting, as well as virtual polling of constituents to develop priority goals. We work with you to develop a participation process to develop implementation projects that are local. Finally, we develop local outcome measures that are meaningful to you.
To begin we have a platform for a community of any size to decide which UN goals to prioritize.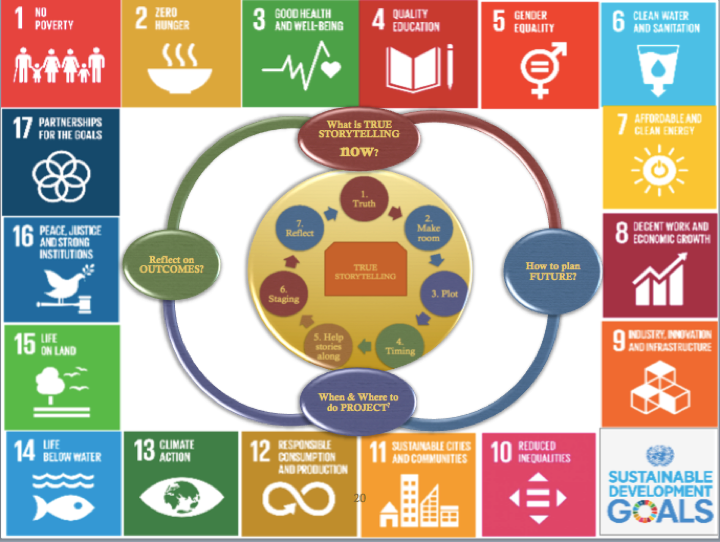 Here is an example of a municipality that developed the goals into a True Storytelling plan of action, with projects to implement.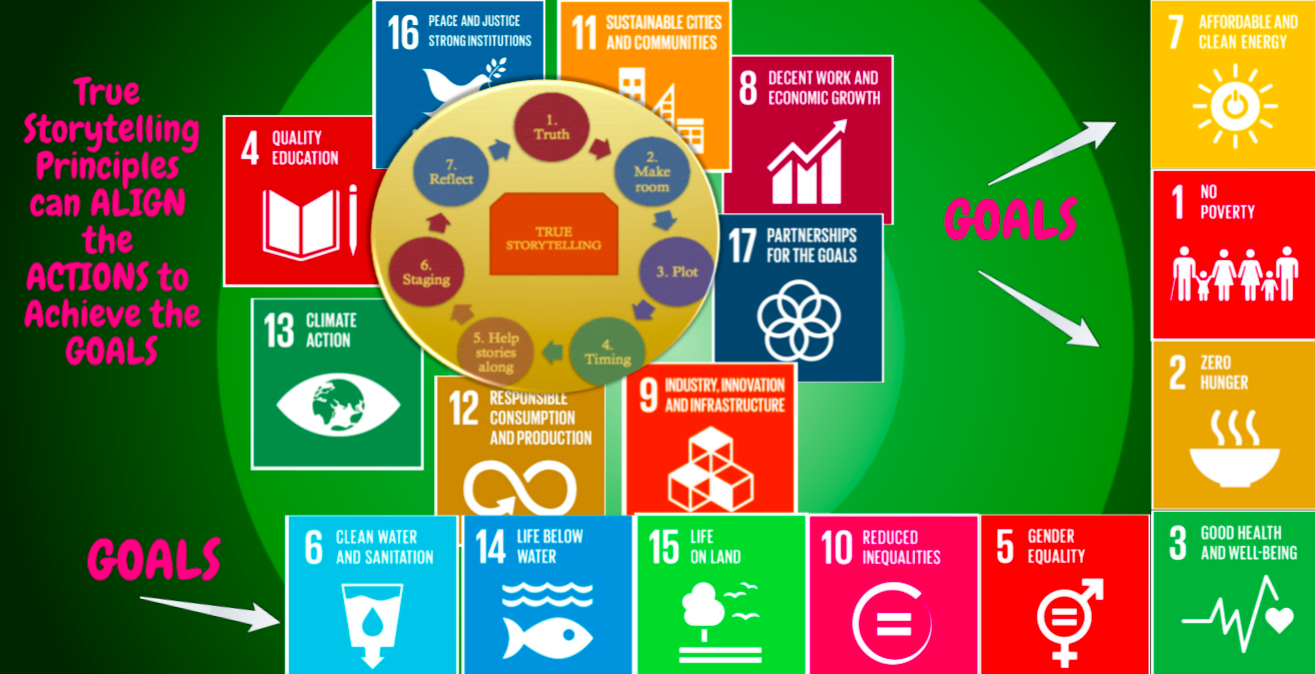 Next Steps:
Work through the 7 principles:
TRUTH - co-inquiry into the situation now

MAKE ROOM - for stories already there

PLOT - strategy with clear beginning, middle, and end; the actions and the why

TIMING - of the implementation, the opportune moments

HELP STORIES ALONG - keep the momentum by reinventing the stories

STAGING - setting the scene, the material of the staging, and artifacts

REFLECT - having the evaluation with qualitative stories and measures that also tell the True Storytelling (then cycle back to #1, for the next actions).
How to get started with True Storytelling
Contact us here and we will arrange a meeting, introductory workshop. Tell us about your True Storytelling Project.
CONTACT:
Jens Larsen
Phone:¬ +45 2892 2097
Lena Bruun
+ 45 5359 1966
David Boje