Swainson's Hawks are Now Nesting at New Mexico State University
By David M. Boje, Ph.D. Updated July 10 2018
Its July 2018 and the Saiwnson's Hawks parents are tending their fledglings. Carry that umbrella or wear a big hat, and be aware of your surroundings. Thank you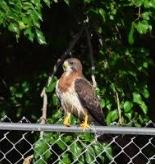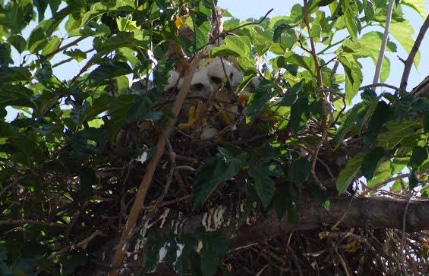 Fledglings are in the next, and Parents are perched in protective vigil. Try to avoid the nesting sites - July 2018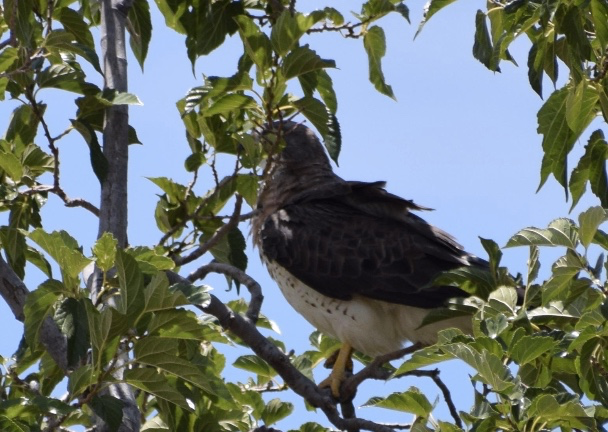 Carol Campbell reports May 31 2017: "I proudly report that the Swainson's hawk pair are tending at least one young in the nest. I have had to use my best optics to get verification but the behavior is a confirmation that they are feeding in the nest. I suggest adding more signs to the area around the nest tree. They may become more defensive as possibly more chicks hatch.  Yesterday, as I stood with my sporting scope steadied against a tree, the male came swooping low and made me duck (glad the tree diverted him).   Please let me know if I can help in any way. Thank you for supporting NMSU's amazing and inspirational wildlife" --- Carol
So we can buy umbrellas, T-shirts-, and signs to protect these magnificent Swainson's Hawks, their young, and our students, faculty, staff, and guests walking around the heart of the NMSU campus.
I just wear a hat, and seems to work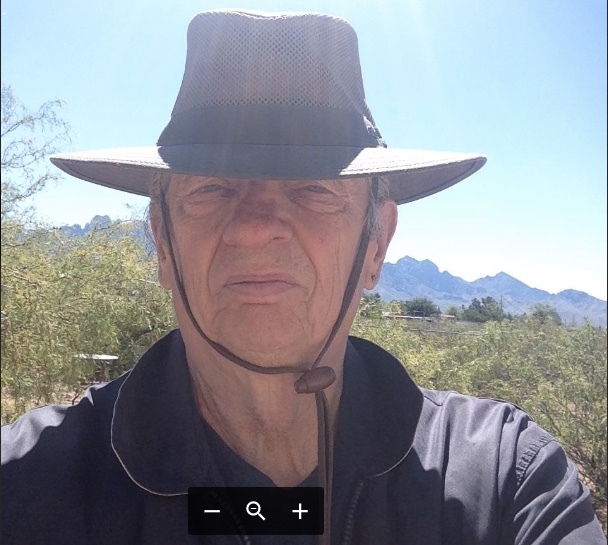 April 2017 and the Swainson's Hawks are back in their favorite tree, by Rentfrow Gym.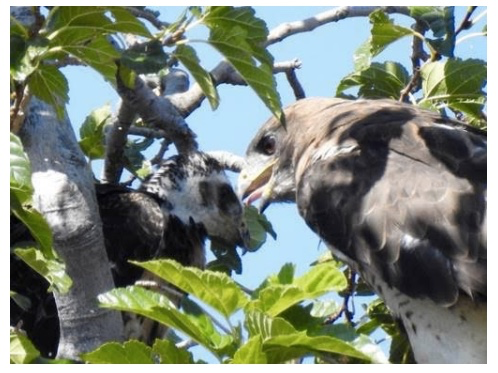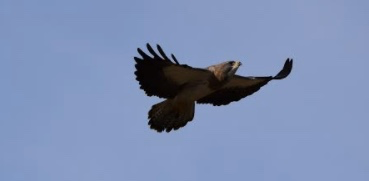 Click for higher image quality
Here is the mate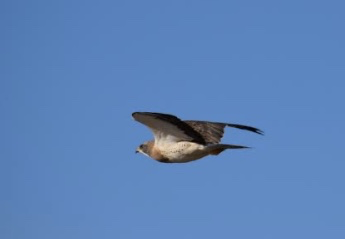 Click for higher quality image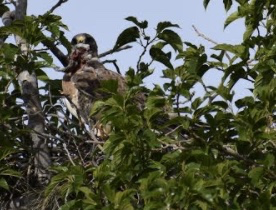 Mama Hawk tending the nest April 2017 while Papa Hawk goes for food
Click for higher quality nest image
We want to buy a webcam to mount near their favorite tree and watch the hatch and the feeding of the fledglings
Hawk on Nest camera mounted on nearby iron lamp pole at lot above Retfrow.
Here is one we are checking on. Must be streaming, and this one with night vision is a plus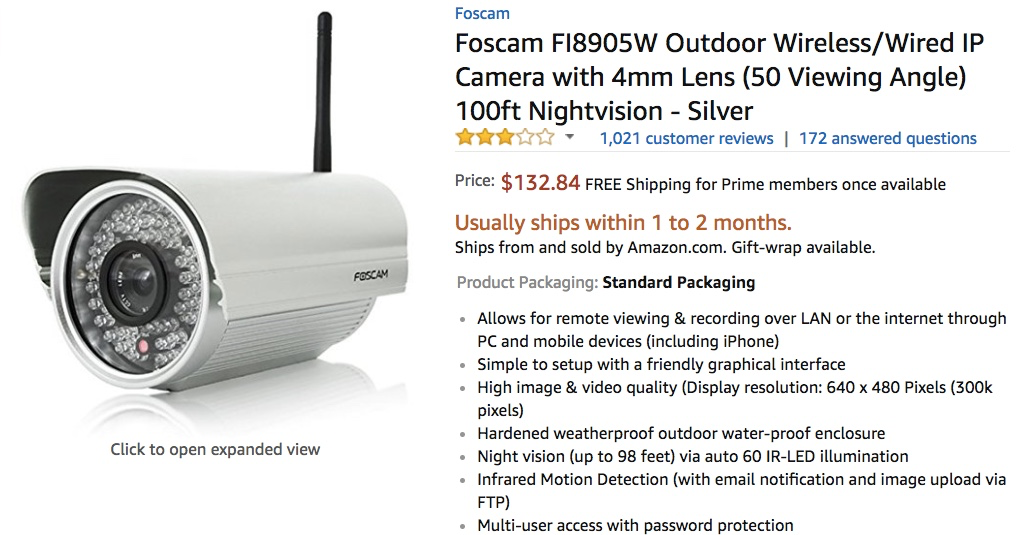 Thank you Aaron Hyman and the boy scout troop of Las Cruces for their work on vetting the choice of webcam with the NMSU units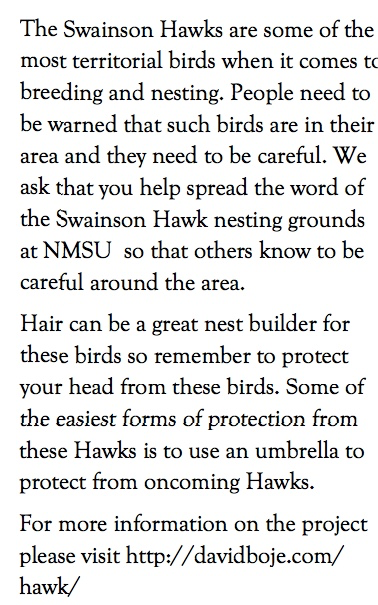 Its time to put out the umbrellas or wear a sturdy hat.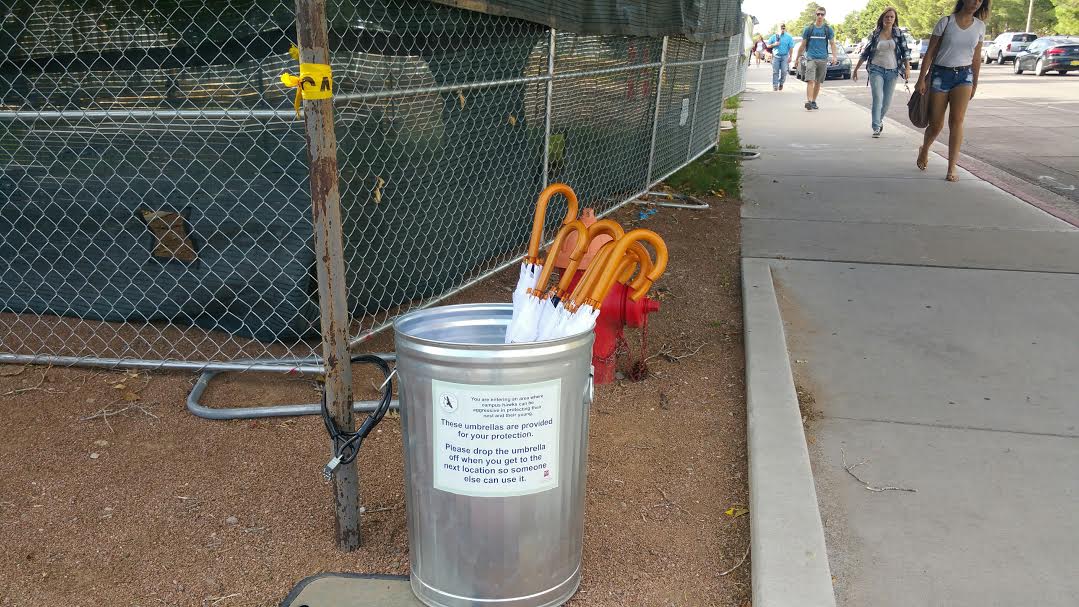 Our umbrellas are all picked up in 20 minutes and never returned. So we are asking you to just get one at Family Dollar or General Dollar for a few dollars. I have some to give out to anyone SWOOPED by an AGGIE-HAWK. Just let me know.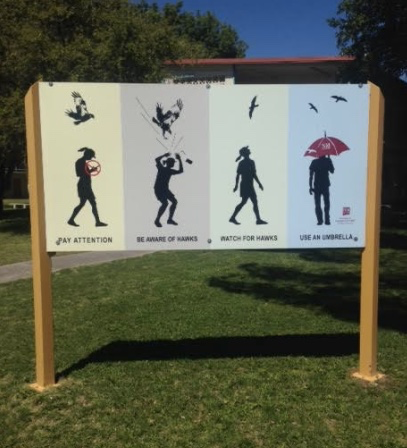 Thanks for getting the signs up.
And time to put out the signs so our students, faculty, staff know how to protect the Swainson's Hawks, and themselves.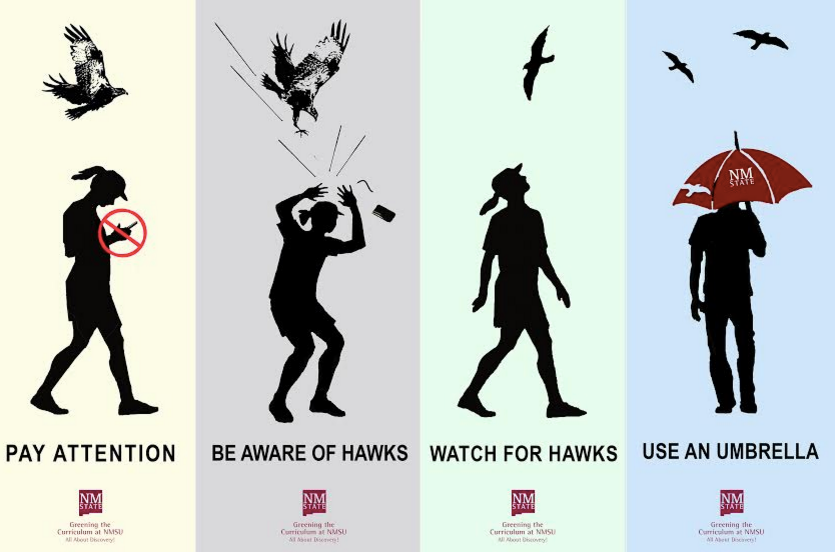 Poster above by Kelley Hestir will help people on NMSU campus be aware of the rights of Swainson's Hawk to live and breed, and answerability of people to be aware of when they get too close to nests and hatchlings, and can get swooped. Us an umbrella to protect the Hawk and protect yourself! - Thank you.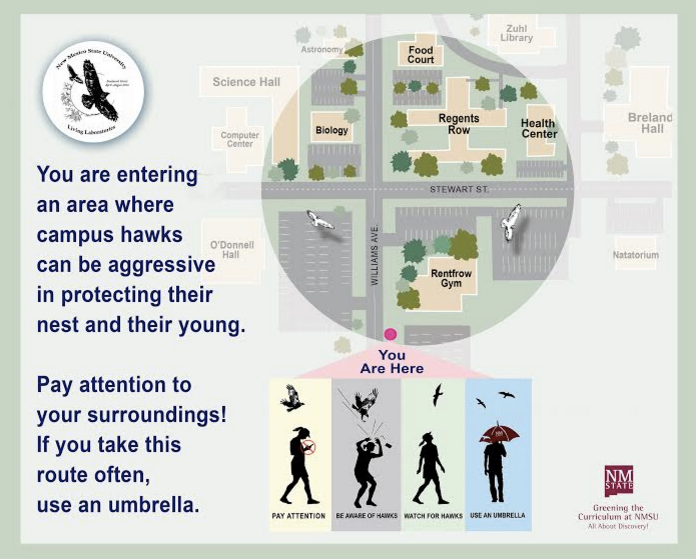 Did I mention, Swainson's Hawk is listed on at least one endangered species list http://www.dfg.ca.gov/wildlife/nongame/t_e_spp/bird.html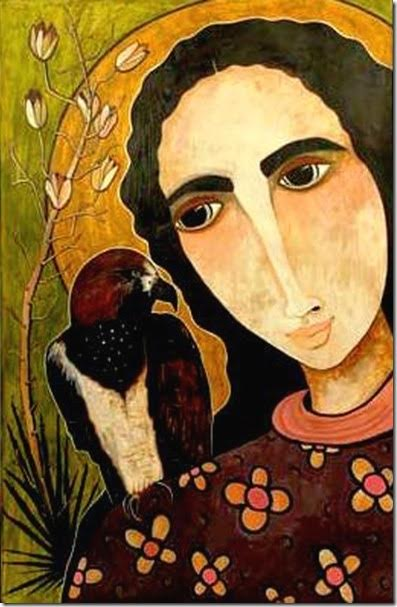 Credit information for the art: NAKASHAWU #2 / ©2016 / Artwork & Poetry by Virginia Maria Romero:
I still have a few T-shirts to give out to students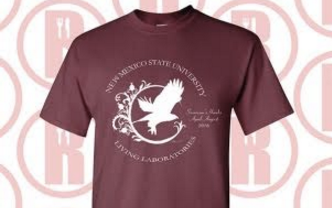 See the complete archive of Swainson's Hawks sustaining at NMSU