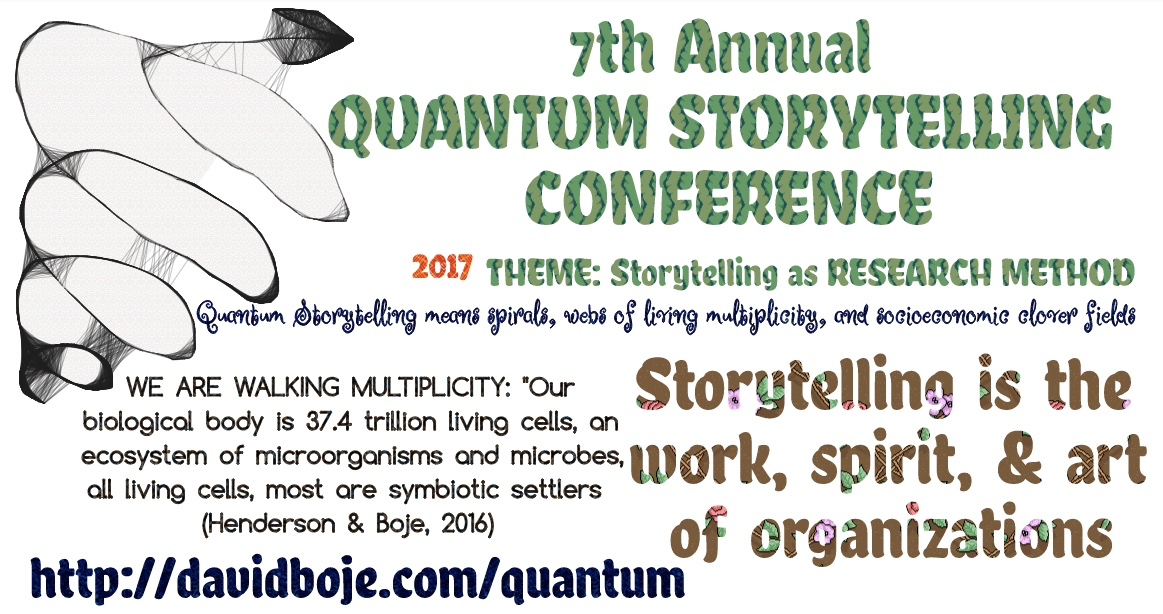 2017 THEME: Storytelling as Research Method
What we call indigenous living story is declared a valid and reliable research method for Native Science (Cajete, 2000) and qualitative methods (Smith, 2007; Denzin & Lincoln, & SMith, 2008). Antenarrative has become an organizational research method (Rosile, Boje, Carlon, Downs, & Saylors, 2013). Antenarrative is acknowledge by Karl Weick (2012) as an method to develop prospective sensemaking as research method. Boje, Haley, and Saylors (2016) use antenarrative as research method to study Burger King strategic changes. Vaara and Tienari (2011) use atnatnarrative to research Nordic bank mergers. Boje, Svane and Gergerich (2016) look at narrative and counternarrative in relation to antennarratives in research with veterans and in mergers and acquisitions. Bülow and Boje do antenarrative analysis of the purge of humanities, and negotiations of survivors in Denmark higher education. Svane, Gergerwich and Boje (2016) use antenarrative to research organizing fractals. Then there is our conference work in Being Quantum in our storytelling methods (Boje, 2014; Boje & Henderson, 2014).
Clearly storytelling as research methods is a growing movement across many social science disciplines.
QUANTUM STORYTELLING PROCEEDINGS PAPERS 2017, Vol. 7, Online
Boje, D. M. (2017). How does Quantum Storytelling Relates to Savall's Socioeconomic Double Spiral? | Download presentation slides.| Handout for wire artwork | YouTube of presentation
Cai-Hillon, Yue; Cagle, Wendy. (2017). Living Story Webs of Art and Energy
Cowart, Adam. (2017). Strategy, Storytelling, and Theatre- paper. Click for slides
Flores Isabel. (2017). Psychoanalysis and Prisons.
Kleiner, Tomas. (2017). Social Media: Is the Medium the Mind? Implications of Social Media on Interorganizational Communications.
Parsons, John. (2017). Narrative and Power.
Pelly, Robert Duncan M. (2017). Sadism in Foreign Lands: Burn Pit Atrocity

Pepion, Don. (2017). Commentary on past Quantum Storytelling Conference
Pichon, Henrietta Williams. (2017). What is it like to be a Black Student at a HSI?
Rosile, Grace Ann. (2017). Ensemble Leadershp: Key to Socioeconomic Experiments.
Salsi, Debra. (2017). Storytelling for Strategy.
Sanchez, Mabel. (2017). The Coalition of Immokalee Workers: Disrupters of Institutionalized Discrimination: Using Follettian Dialectic and Deleuzian Logic of Sense.
Saylors, Jillian. (2017). Seeking organizational cultural fit: the modern day euthanasia of wage slaves.
Smith, William. (2017). Magic of Measurement.
Weisinger, Judy. (2017). Diversity, Equity and Inclusion (DEI).
VIDEOS:
DAY ONE highlights: 7th Quantum Storytelling Conference self-organized into 4 Experimental 'QUANTUM STORYTELLING' Groups proposed by Professor Grace Ann Rosile
Because art objects are materially expressive, they are a kind of quantum storytelling. Here we have one of four experiments done at the Quantum Storytelling Conference. We make a Quantum Storytelling Argument. The proposition: art objects are materially expressive is asserted as premiss. Our proposition: they are a kind of quantum storytelling is asserted to be true. We did four experiments: collaborative painting, sequential painting, collage art, and wire sculpture.
This experiment combines oral, visual, and material storytelling-collaboration of one art canvas. See the other three experiments (sequential-painting, collage & wire art)

-with Joe Weisinger and Robert Duncan M. Pelly, This experiment combines silent telling using visual and material storytelling of one art canvas

3rd video is Collage Art Experiment facilitated by Jo Conatser - with Henrietta Williams-Pichon, Michel Fortier, and Sharon Gloshay- combines oral telling with visual and material storytelling of one art board

4th Quantum Storytelling Conference experiment is Wire Art Sculpting - David Boje facilitator - with Jaimie Lakey, Debra Salsi, Jillian Saylors, Mary Beth Glass, Yue Cai-Hillon, Judy Weisinger, & Maya Weisinger - combines silent storytelling with material art of wire sculpturing individual pieces; Includes award of one of Boje's kinetic wire art sculptures to Professor Henri Savall to commemorate their 18 year collaboration in the SocioEconomic Approach to Management
DAY TWO Highlights: 7th Quantum Storytelling Conference
Day Two See YouTube David Boje's presentation develops 2 kinds of MULTIPLICITY, see his YouTube of the presentation: Numeric & qualitative and puts them in relation to SOCIOECONOMIC APPROACH TO MANAGEMENT (SEAM), & Trafimow's COPERNICAN REVOLUTION in statistics, and Sabine Trafimow's challenges to English translations of Heidegger reform -- more at the proceedings for study guides, slides, proceeding paper

Day Two Youtube of Isabella Flores presents on EMDR work in prisons at Quantum Storytelling Conference. Short Demo of Eye Movement Desensitization and Reprocessing (EMDR) psychotherapy treatment originally designed to alleviate distress associated with traumatic memories. Has start of the Shamanic Drumming, closing event of the conference facilitated by Shamanic Foundation teacher, Charles Conatser - for more on shamanic see https://davidboje.com/shamanic
PICTURES
Quantum Storytelling 2017 included 'shamanic drumming' with theta wave vibrations to journey to other worlds of inquiry

We conference in a CIRCLE OF EQUALITY. Here Pancho Saenz gets the Storytelling Conference ready to do Collaborative Art Event (Dec. 14, 2017)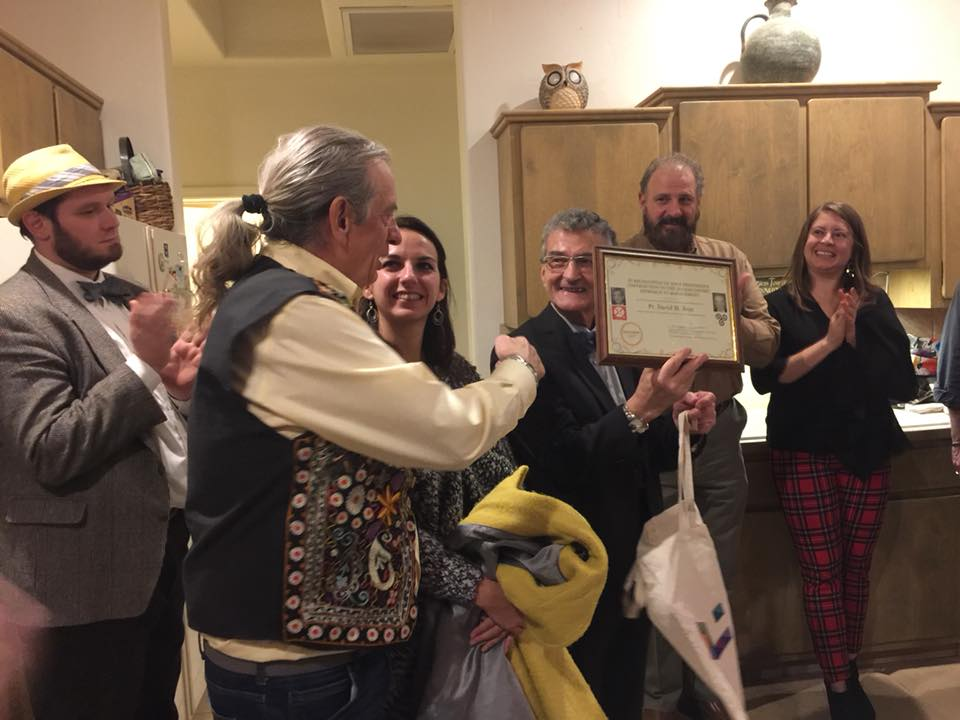 Proud moment for David Boje, as Amandine and Henri Savall present him award for his contributions to SOCIOECONOMIC approach over last 18 years of their relationship. Left to Right: Rohny Saylors, Boje, Amandine Savall, Henri Savall, TK (Tomas Kleiner), and Mabel Sanchez.
Grace Ann Rosile's vegan chocolate birthday cake for David Boje's 70th, as Honey the fur-creature waits for her share of cake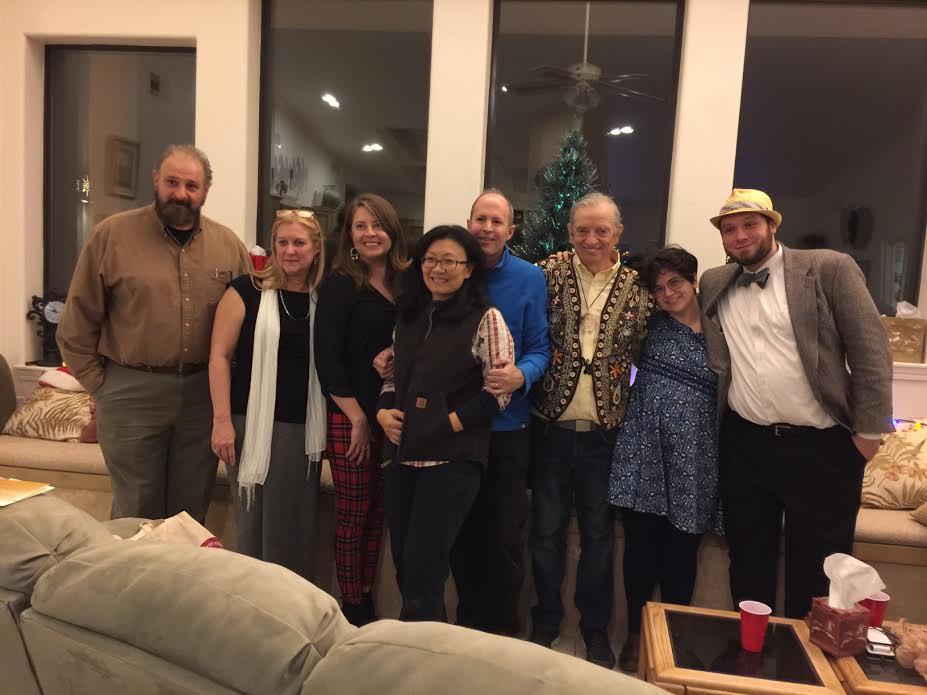 Boje at birthday-eve party with current and past doctoral students he has had pleasure to work with: 'TK' Tomas Kleiner doctoral candidate at Cabrini University, Professor Debra Salsi, doctoral candidate Mabel Sanchez at NMSU, Professors Yue-Cai Hillon & Mark Hillon of North Carolina, Boje, Professors Jillian and Rohny Saylors of Washington State.
Charles, Dean, David, Claudine, and Michele at Dec. 17th birthday party at Laurie's
ROhny, Gerri, Jillian, Mike, Tonya, David, Grace Ann, and Wanda having fun at Quantum Storytelling Conference in 2014
Join us December 13-15, 2017, in Las Cruces, NM
Welcome Reception Wed evening, Full Day Sessions on Thursday 13th and Friday 14th, Half Day Saturday 15th, followed by Sightseeing on Sunday 16th if you want to stay over and go to White Sands or to Cliff Dwelling in Silver City. Boje birthday bash at end of conference. Watch him turn 70.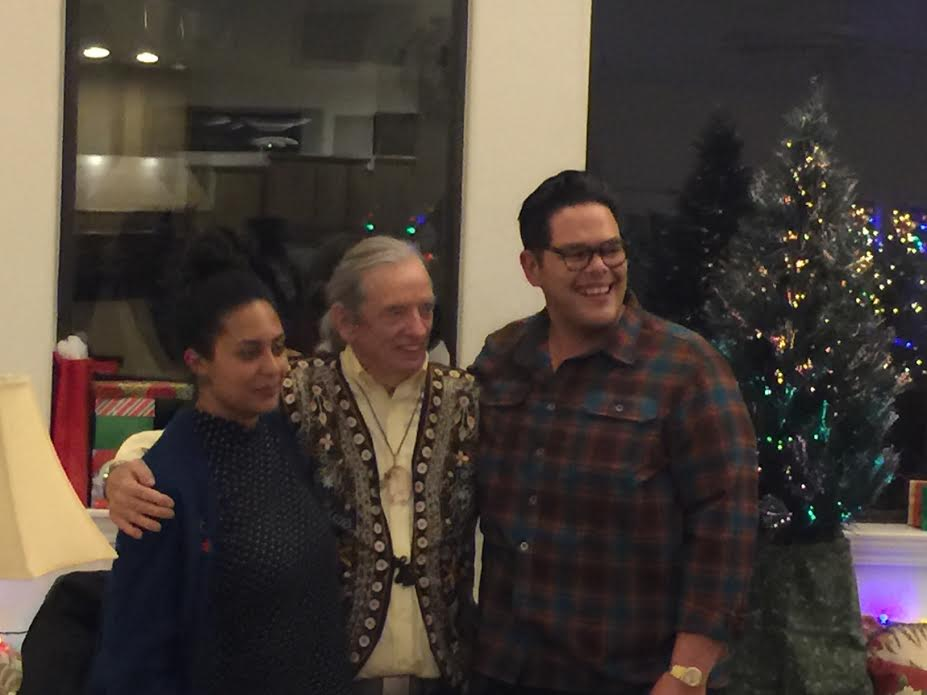 Maya Weisinger, David Boje, and Maya's musical friend