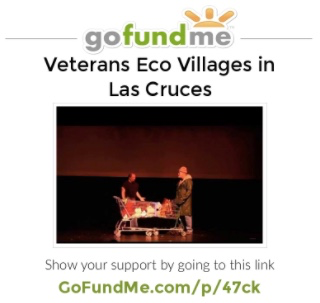 Veterans Theater has four main projects:
Our next performances are afternoon 2:00PM, and evening at 7PM of December 16th, The play is called 'Labels and Bullying', will be Alma d' Arte theater, 402 W. Court Ave.

Ernest Ramey present dec 15 quantum storytelling conference

Veterans Theater is working to get stories of homeless veterans and homeless on stage. This YouTube is about the upcoming ...

Damien Willis , Las Cruces Sun-News7:46 p.m. MST December 16, 2016
Veterans Theater puts on plays about homeless veteran stories and homeless stories Next play is 2pm and 7pm December 16 at ...
Veterans Theater is working with Omar Jesus Oropeza, (Veteran, Navy), Builder Tropicana [modular panel construction] Homes ...
www.lcsun-news.com/story/news/2016/04/09/tiny-homes-subdivision.../82823488/
We have two facilities planned, and we are negotiating the site locations (one on NMSU campus A-Mountain old Rodeo Site, and other possibility is Burn Lake at City of Las Cruces)
It will be held December 15-16 in Las Cruces New Mexico; The conference will attend the Veterans Theater performance of 'Labels.'
See Boje (Aug, 2016) Bath Salts and Spice Business Case pdf.
THE VETERANS THEATER DECEMBER 16 2016 PLAY: LABELS
HAVE YOU BEEN LABELED?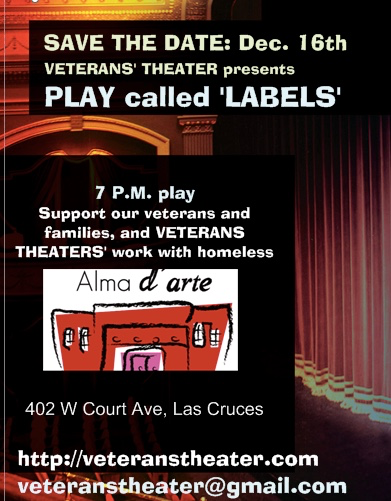 Students from Alma d'Arte Charter School watch a performance of "Labels," a three-act play by Veterans Theater players David Boje, left, Ernest Ramey, center and JR Holton, right, about homeless veterans and Spice usage in Las Cruces on Friday December 16, 2016. (Photo: Josh Bachman/Sun-News) More
VETERANS ECO VILLAGES OF TINY HOMES VISION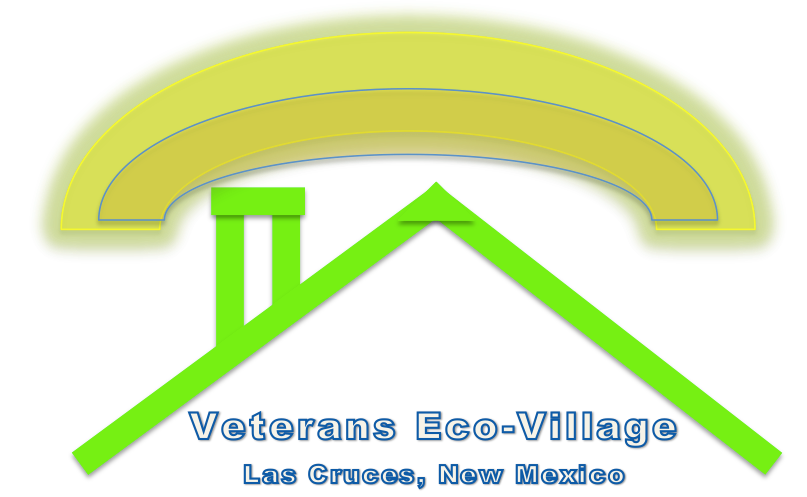 April 4 2016 - presentation on Eco-Village for Veterans to the City Council of Las Cruces see PowerPoint Slides.
April 10 2016 - Tiny homes subdivision proposed to city officials article by Steve Ramirez, Las Cruces Sun-News7:04 p.m. MDT April 9, 2016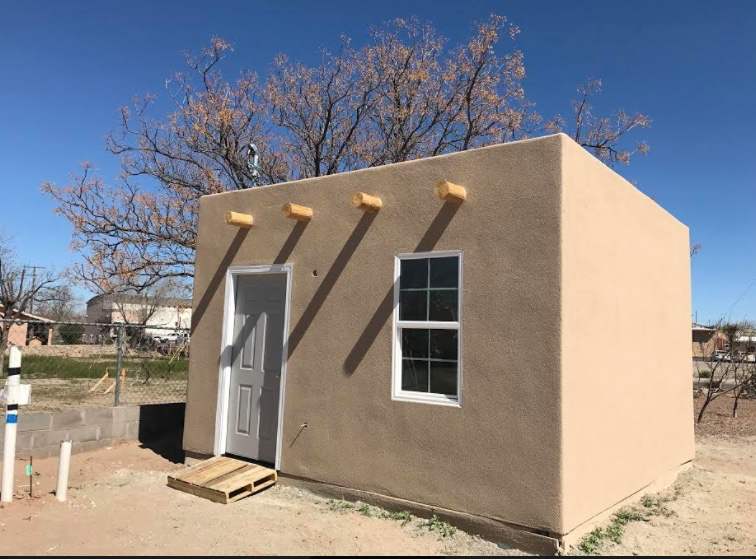 September 15, 2016 - Veterans Eco Village presentation to Arrowhead 16 September 2016
The November 23 2016 Plan for two Veterans Eco Villages, Phase I -Rodeo Property A-Mountain for Legacy Ranch and the Student Veterans' Eco- Village of Tiny Homes; Phase II - Burn Lake City of Las Cruces for Homeless Veterans (and Other Homeless). This is for the next meeting of NMSU Board of Regents - Real Estate Committee presentation.
Veterans ECO Village of Las Cruces Modular Construction YouTube
(Photo: WikiMedia Commons photo)
Sustainable Tiny Homes in ECO-VILLAGE in Las Cruces would be a profitable and low cost investment for local businesses. They would be a  valuable alternative for anyone who would like to live simply in a portable sustainable home and become self-reliant.
VETERANS THEATER SPICE ORDINANCE CAMPAIGN
SPICE MENACE DOCUDRAMA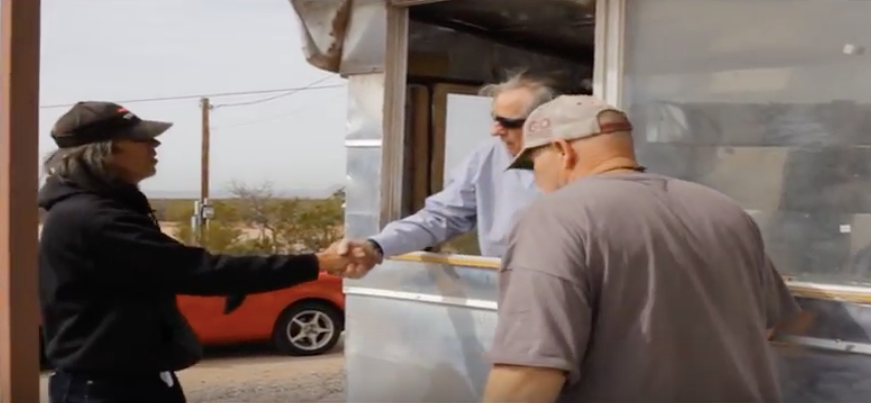 Veterans Theater's Documentary YouTube Video on Spice Epidemic will be presented at City Council of Las Cruces New Mexico on 28 March 2016 at noon. Click here for the PowerPoint Slides
SUMMARY: March 28th, 2016 Professor David M. Boje (Management Department) presented a film "Spice Head Falls Out" written and directed by James Sassak, actors include David Boje and Professor Grace Ann Rosile (Management Department), and edited by NMSU student (Jessi Sanchez) in Mgt375V Sustainability Development to the Working Session of Las Cruces City Council and the Police Department http://las-cruces.granicus.com/MetaViewer.php?view_id=2&event_id=201&meta_id=67763 The 10 minute film is also on YouTube https://www.youtube.com/watch?v=RNU_t01BeGs&feature=youtu.be and was followed by Slide presentation
https://davidboje.com/Veterans_Theater/Slides%20for%20City%20Council%20Presnation%20by%20Veterans%20Theater.pptx The film highlights the impact of 128 billion dollar Spice (synthetic marijuana & bath salt) industry on Las Cruces residents (average user age is 13), and its a business practice that is ethically and morally unsustainable,. As a result of the Film, and Slides presentations by Dr. Boje and by the Police, the City Council is going to write a "Synthetic Intoxicants Ordinance" ("Synthetic intoxicant" means bath salts or spice) to be presented in May 7th working session of City Council. Boje suggested an Ordinance similar to Hobbs (see pp 404-405 http://www.namsdl.org/library/C8B389DC-19B9-E1C5-31DBE858808DEB7A/) where the business license can be suspended for selling Synthetic Intoxicants, business is shut down for 7 days, and owner pays for the expensive testing of each potential synthetic product being sold on the premises. Las Cruces Police reported successfully prosecuting and convicting a business owner to 18 months for selling Spice http://www.elpasotimes.com/story/news/crime/2016/03/26/el-pasoan-convicted-spice-case-las-cruces/82303612/ This is a business practice that does not belong in society. More information at http://veteranstheater.com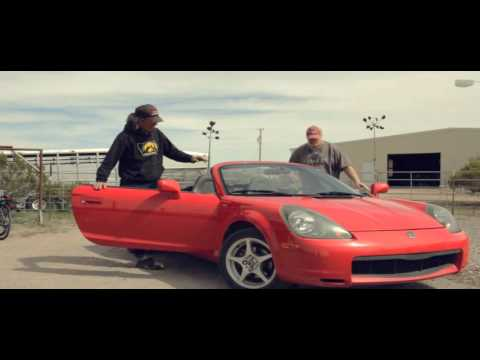 Since 9-11, 2001, 2.8 million troops have been deployed to Iraq War and Afghanistan War.  They are coming home. Will they be treated any better than our Vietnam War Veterans?
See Spice Articles mentioning Veterans Theater:
LAS CRUCES – TO MANY IN LAW ENFORCEMENT, IT SEEMS IMPOSSIBLE — LIKE ROLLING A BOULDER UP A MOUNTAIN. Damien Willis, Las Cruces Sun-News Sunday Feb 1st 2016
Damien Willis, Las Cruces Sun-News9:20 p.m. MDT October 3, 2015
By Mike Cook
Las Cruces Bulletin, 5 February, 2016
Thanks for sponsoring the 2016-2017 seaons of Veterans Theater Plays
(see past plays). Put your ad in our PROGRAM (Playbill)and in Total, we will print over 2,000 playbills in 2015-2016 season.
Veterans Theater believes that every veteran is a star! Veterans develop their own unique talents through theater.

Veterans Theater is a nonprofit organization dedicated to providing the best Theater of Social Change and Justice in New Mexico and appreciates your support. Let all their stars shine!

VETERANS THEATER is concerned: Why do SPICE businesses continue to have business licenses in Las Cruces?
"NYC Selling or producing K2 was previously only considered a health code violation in New York state, punishable with a $250 fine. Under the new laws, offenders can be sentenced to a year in jail and fined up to $50,000. Shops could also be shut down" -- More.
"The Drug Enforcement Agency said arrests took place in 16 states around the country in the past two days as part of a 15 month effort against synthetics, linked to a rise in overdoses and drug deaths... investigators have found that the proceeds are often sent to the Middle East, the DEA said." --- Read Article
VETERANS THEATER is taking Theater to the Streets TO DO SOMETHING TO STOP THE SPICE TRADE. 1 IN 9 TEENS TRY SPICE. 2000 VETERANS GOT DISCHARGED FOR USING SPICE. SPICE IS EPIDEMIC IN AMERICA: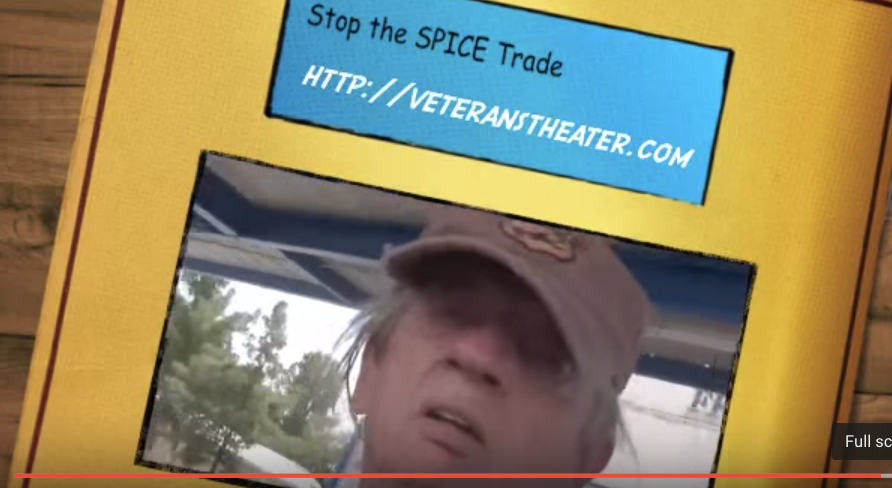 We are Veterans Theater http://veteranstheater.com We did a buy of SPICE (k2) 2 days after the police raided the place, and supposedly shut down the spice trade. But here it is. Use of SPICE (aka K2) has skyrocketed. Some 450 synthetic (fake) cannabinoid compounds are sold by business, many here in the USA. Smoking spice leads to very aggressive, angry behavior, to vomiting stomach pain, severe anxiety, and too often death. Smoking spice is like playing Russian roulette. 
TESTIMONIALS:
"Awareness...men and women who serve in our military to keep our freedom....our greatest gift....need to be taken care of with love and respect regardless of their mental and physical condition. ... play entitled "Dead While Waiting for my VA Appointment" depicts the way veterans are treated within the VA system. Their individual situations get lost in the system's bureaucracy with untimely appointments, improper diagnosis and medications. The presentation was a true depiction of the VA care system and was an eye opener to most people who don't realize veterans are not treated with the respect they deserve, and who sometimes have to go outside this system for better medical care. Soldiers are greatly respected but veterans lack the same. Making people aware can help influence elected officials to aid in making changes to the VA system to provide better service to veterans" --- Bob and Mary Sherman, Las Cruces April 30, 2015

Is this a false narrative or an under-count. Jennings in NPR, says "That narrative goes something like, American enlists, American goes to war, American comes back and is diagnosed with a mental health condition or is broken — somehow there's this connotation — and because they have PTSD, they ultimately kill themselves. That's a false narrative" (NPR).
(Photo: Jeremy Perlman/For the Sun-News) article Sept 23 2015
LAS CRUCES — Billboards claiming the "VA is Lying Veterans are Dying" are going up, including one in Las Cruces, New Mexcio.
VETERANS THEATER BLOG POSTS: Today, 4:49 PM The Quest of the Veteran to find their Authentic Self – Blog post David M. Boje, Ph.D. Sep 10 2015

Sep 9th, 6:08 PM What is Storytelling Relational Processes of Veterans Situation in the USA? Blog post by David M. Boje, Ph.D. Sep 9 2015

Sep 7th, 2:57 PM How does Wealth of War Corporations and the Super-rich relate to Madness, Homelessness, to Veterans Issues? – Blog by David M. Boje, Ph.D. Sep 7 2015

Sep 5th, 4:00 PM Madness, Veterans, Homeless, and Institutions of Care for the Mad Warriors – blog by David M. Boje, Ph.D. Sep 5 2015

Sep 2nd, 2:46 PM How Veterans Theater is Emerging by Anticipations – blog by David M. Boje, Ph.D. Sep 4th 2015

Fact: 900,000 veterans have pending applications to access health care at the Department of Veterans Affairs. One third of those veterans seeking care, not getting it, are thought to be dead. The VA has not effectively managed its care delivery. See this Associated Press report. Veterans Theater puts on plays by veterans, with veteran actors about just this sort of mess, and what can be done about it. How you can help: Click on GoFundMe - Thank you!
members of its VETERANS THEATER program, are seen here donating charcoal, extension cords, clothes lines, and charcoal starter to a Day Shelter, somewhere in the Southwestern United States.
We live in New Mexico that has 173,000 veterans known to the VA, but another 200,000 that have not even tried to register. We live in Las Cruces, where most of that help comes from El Paso VA hospital and offices, but it is the worst rated VA delivery in the nation, with among the longest wait times for care.

Menu of Antenarrative Foundation PROGRAMS: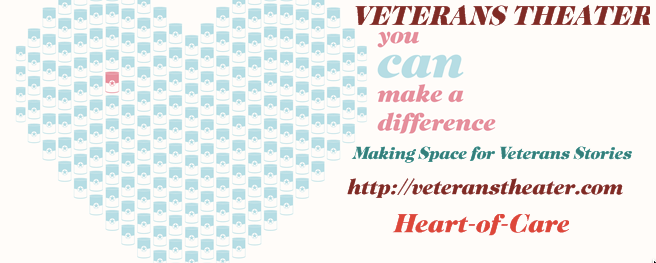 February, 2016, go to Albuquerque and do Veterans Theater, and stay in KOA, to give our homeless and transitional housing veterans a break from their life in Las Cruces. We have an invitation to the National Social Work Conference from the student organization Phi Alpha.
All these plays, mean rehearsal, picking up the proper sound equipment, having a van to transport actors and crew, and that equipment to each event.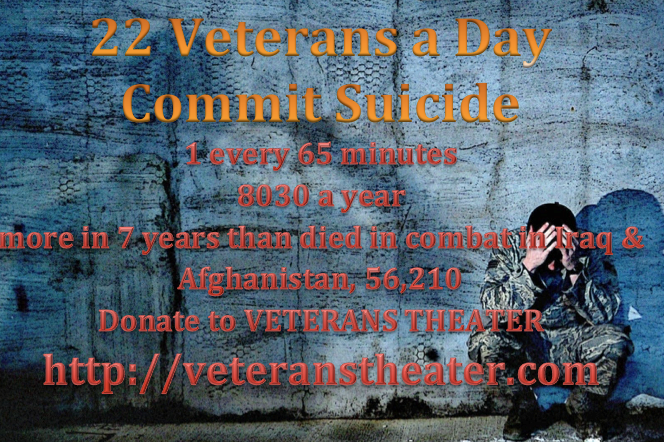 Don't forget the homeless suicides". Between 2000 through 2009, mortality rates for suicide, unintentional poisoning, unintentional falls, etc. increased by 15%, 128%, & 71% respectively. Suicide ranked first as a cause of injury mortality, followed by motor vehicle traffic crashes, poisoning, falls, and homicide source.
Read More: 
http://ajph.aphapublicat...&
TESTIMONIALS
"This project is a very innovative and effective way of enhancing the lives of the participating veterans in the community, but at the same time, it raises public awareness of the issues veterans face as they try to (re)adjust to their old-new home-lives. The play is bound to be entertaining, heartfelt, and cathartic all at the same time" -- Gabriella Lewis, NMSU April 30, 2015
"The vignette of the play "Dead While Waiting for My VA Appointment" was a powerful recounting of the lived experiences of its performers – women and men who served honorably and with distinction in the U.S. armed forces. The play shines light on the challenges they and countless other veterans have faced while trying to obtain medical care and services from the Veterans Administration, particularly at VA facilities. Especially notable is the play's depiction of the uneven care offered to different classes of vets (for example homeless vets vs. middle-class ones, or those with physical vs. mental health issues), as well as the potential over-reliance on prescription medication as a primary means of treatment. Given the 2014 resignation of VA secretary Gen. Eric Shinseki amidst a wave of VA hospital scandals and cover-ups – including the ordering of employees to falsify data concerning wait times and delayed care related deaths – this play brings much-needed attention to the quality of care and services we provide our combat veterans with AFTER their return home from battle. Having spent 9 years in the U.S. Army uniform and as an Iraq War combat veteran myself, I appreciate this story being told" --Dr. Sean Roger New Mexico State University, April 30, 2015

I recommend the play put on ... to anyone who has a chance to see it. There is a refreshing honesty about it and it also makes clear that the homeless are not necessarily what people think. Just like people who are not homeless, there is much variance in homeless people too. -- Dr. David Trafimow, New Mexico State University Aug 5 2015
"This compelling presentation was educational, entertaining, and at times shocking as it featured veterans enacting their own stories and bringing to light the crucial need for assistance for our veterans. This type of theatre has a positive impact both for participants and the community and deserves our full support" -- Wil Kilroy College of Arts and Sciences Academic Department Head/Professor: Theatre Arts
We write about madness in the Vetrans Theater BLOG: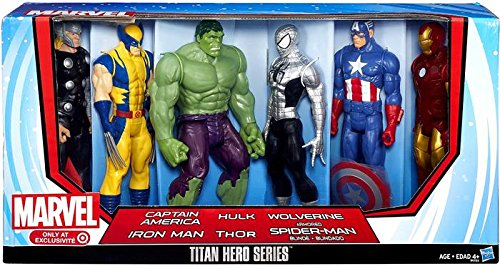 Left to Right are Thor-Wolverine-Hulk-Spiderman-Captain America-Iron Man
These are the icons of military warrior, turned to help USA in the sea of madness. Veterans Theater BLOG.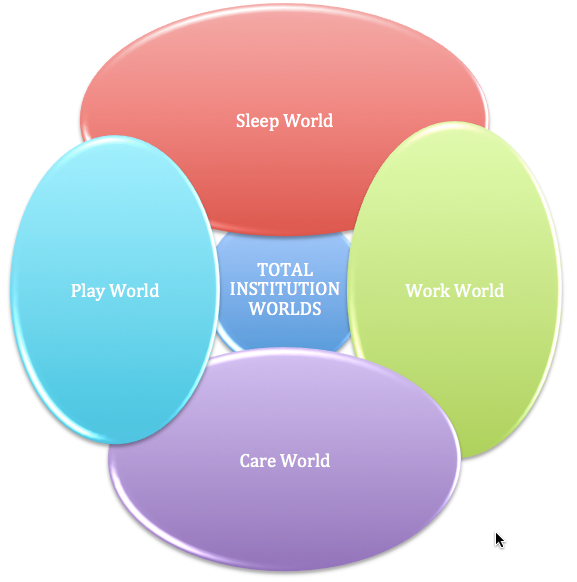 T