McMurry University's "Water is Life" Storytelling Conference:
Water is More Valuable than Oil
Abilene, Texas
March 18, 19, and 20, 2020 McMurry University will host interactive workshops featuring experts in the fields of water and storytelling for students, faculty, and the community. This conference is a unique opportunity to blend theory and practice through to explore the contingencies of our planet's water cycle.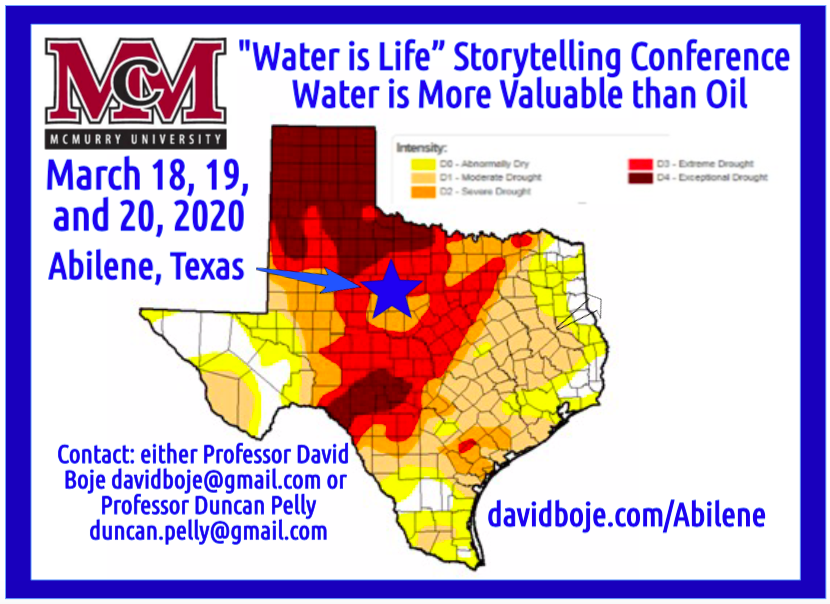 This conference will examine ways to prepare for the global water crises as foreseen by hydrologists, ecologists, futurists, and the United Nations. Abilene is a uniquely germane setting for this conference because it enjoys some of the highest quality water in the United States, due in large part to rigorous treatment processes. Federal Regulations require testing for 75 radiological and chemical substances, but Abilene screens for more than 170, with all contaminants being below state and federal regulations, and many are absent from the water. As part of the conference, participants will have the opportunity to tour local water sources and treatment plants.
We welcome submissions from diverse perspectives. Topics for academic workshops and paper presentations may include storytelling and narratives (see https://davidboje.com/Abilene for examples), research perspectives from the hard sciences, or explorations of the impact of the water crisis from social science and humanities lenses. Practitioner workshops and presentations may describe the processes of water acquisition, treatment, transmission, and recycling; case or anecdotal studies of the role and impact of the water crisis, or historical analysis of the role of water in religion and spirituality. The aforementioned is intended to illustrate the spectrum of approaches welcome at the conference.
Professors David M. Boje, Ph.D. and Duncan Pelly, Ph.D. will facilitate the conference, plan the presentations, and host interactive sessions.
If you would like to submit a proposal for a sixty minute workshop, or a 20 minute paper presentation on the global and local water crises, please contact either Professor David Boje davidboje@gmail.com or Professor Duncan Pelly duncan.pelly@gmail.com with a two page proposal and your contact information. We are also happy to provide guidance on how to prepare for the presentations and workshops.
---


LAST YEAR'S EVENTS

Abilene storytelling science 2018

David Boje and Grace Ann Rosile

Grace Ann will do Tribal Wisdom for Business Ethics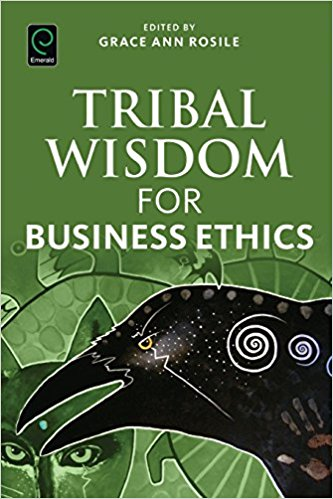 David Boje will do 'storytelling science' problem solving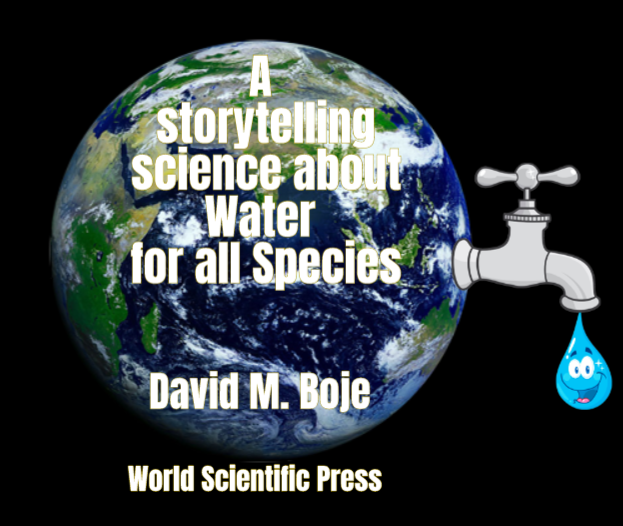 Boje's Slides for the seminar 'Storytelling Abilene's Creation Care for Water -- are here - Please download and enjoy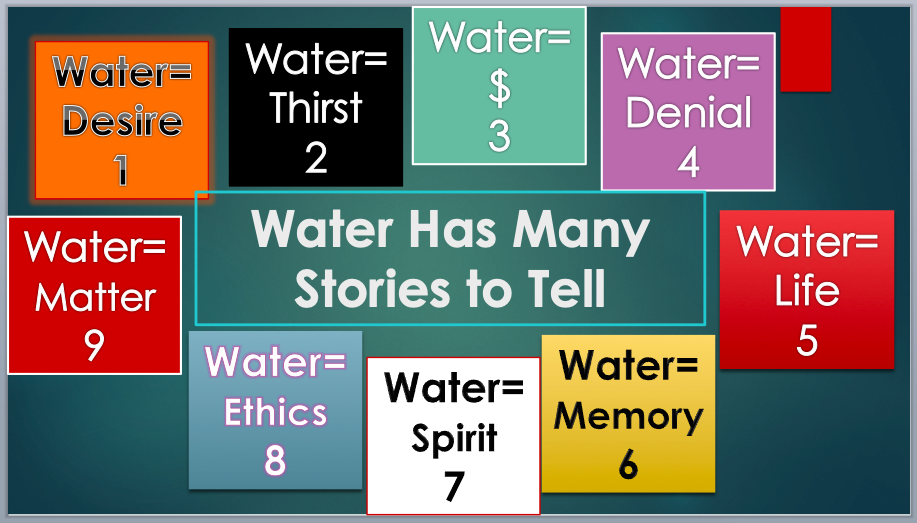 Seminar Series Title: 'storytelling science' 'little s' for your dissertation and after
David M. Boje
Seminar is 10-14.00 on 14 May, 2019

-
Please Download 'Doing storytelling science' book from this folder
and
Please also download Boje's Storytellling and Water Book
David M. Boje & Grace Ann Rosile
in submission, UK, US, Singapore: World Scientific

SLIDE SHOWS THAT COULD ALSO SAVE YOUR LIFE
1.
Why Coke and Diet Coke are Poison
2.
Why Pepsi is worse
Why Tap Water is better Choice than Bottle Water
I hope we can explore some of this and anything else in the book above or the ones below. Let me know by email before the seminar, so I can ready myself. Check the Story Map at this link
https://www.coca-colacompany.com/watermap
Find your country, or some other country, then find the counternarratives to the Story Map stories, or find the 'untold stories' (Hitchin, 2014), which are places water bottlers are extracting water, and not disclosing the story.
We checked and Abilene has Coca-Cola bottlers but they are not on the STORY MAP.
We need as qualitative storytelling researchers begin to challenge the water quantification methodology of the 'story maps' of the water corporations commodifying and privatizing water that was once a community good. See for example the methodology of
Deloitte consulting firm hired by Coca-Cola Company
to justify, legitimate, and tolerate the water replenishment corporate narratives. Deloitte's equivocating is quite metaphysical " Deloitte was also engaged to review and validate the quantification of water-related replenish benefits .... Deloitte does not express any form of validation on them." On page 1 they add " Methodologies for quantifying Replenish benefits and associated data needs were identified, and the methods were applied to projects with sufficient data for the calculations" with page 4 " benefit of approximately 25.6 BL/yr." What are these mysterious calculations? For example in Table 1, in Pakistan, there is the conjecture:
" 61 roof water harvesting schemes were established in three sites: Namli Mera, Kundla and Tauheedabad where there was shortage of spring and stream water. Each roof‐water harvesting scheme consists of collection channels around the roof and a storage tank connected with a wash room or a washing tap." This is said to have 7.90 million liters a year replenishment rate. We are told that in Pakistan (to take but one example): " Roof water harvesting schemes were established in three sites where there was shortage of spring and stream water." In Template 3, Deloitte says Coca-Cola needs to provide actual numbers to make calculations possible. This begs the question, where does the number 7.90 million come form, how is a non-existent number interpreted as a story on a story map (where by the way, I cannot find a story for Pakistan). Perhaps you can!

David M. Boje
Professor, Aalborg University (each May)
Emeritus and Regents Professor, New Mexico State University
Sustainability Storytelling Lab at the European School of Governance (EUSG)
Adjunct Cabrini University, Philadelphia, PN
all around 'specific' intellectual and 'Critter.'