PUBLICATIONS SUMMARY

199 papers presented at professional societies

23 books published

50 conference proceedings

41 invited journal articles

2 books in progress

20 featured news articles

110 refereed journal articles

(total all journal articles= 151)

101 chapters in books

9 working papers

$600,000 in grants and contracts over his career
Click on following links to see sample articles, chapters, & presentations:
Ask Boje your question on storytelling by clicking here?

I solve problems in how your organization is storytelling its strategy, humanity, sustainability, and ethics. To ask your STORYTELLING questions I have a helpful tool: https://camo391.wufoo.com/forms/q1aia4w808kux22/ or, contact me at davidboje@gmail.com

Storytelling is an art. We are storytelling animals. Storytelling is my focus. Storytelling is what I do in teaching, writing, consulting, and research for 35 years. See Youtube at https://www.youtube.com/watch?v=VcsPh-5QbdE I love to help people and organizations find this storytelling path. It is easy to become a character in someone else's master narrative. It is more helpful to find your own living story path. Its a matter of finding you voice. Join us at our annual conference http://davidboje.com/quantum We have a mix of storytelling consulting practitioners, researchers, and clients who celebrate finding their own living story. I work with my colleagues in Denmark in two venues. One is the Material Storytelling Lab in Aalborg University where I am said to be the godfather to the lab. Material Storytelling (Anete Strand's pioneering dissertation and lab direction), is based on Karen Barad's work (and a bit of my own), to look at the intra-activity of 'social' with the 'material'. It is part of a huge movement called 'sociomateriality.' We use the term 'quantum storytelling' to get at how there is no separation between social and material. We are both/and. In Denmark I work with TRUE STORYTELLING, a project by Jens Larson, and Lena Larson, to do storytelling bootcamps. True Storytelling is possible in consciousness raising boot camps of self-transformation and critical reflexive inquiry into our own habituated thoughts and actions within micro-physics systems, and embedded macro-political systems of power. It is possible to recover an agency of resistance to normalization under the detailed disciplinary technologies of the institutions we work in.

I hope to see you at our events. To get on our mailing list, click here. David

Get on list for upcoming Storytelling Events

He lives in New Mexico where in his spare time he is an amateur blacksmith artist. He is a member of STRADA, the Strategic Analysis Discourse Group at NMSU. He was awarded an honorary doctorate from Aalborg University, Denmark in 2011 for his contributions to quantum storytelling.

He is founder and president of Standing Conference for Management and Organizational Inquiry| and the new annual conference on Quantum Storytelling each December http://bigstoryconference.com. He is founder and past editor, Tamara Journal and Chair of the NMSU Sustainability Council. He is former Bank of America Endowed Professorship of Management (awarded September 2006-2010), and past Arthur Owens Professorship in Business Administration (June 2003-June 2006) in the Management Department at New Mexico State University Department of Management, New Mexico State University, Box 30001, MSC 3DJ Las Cruces, NM 88003-8003 | Phone 575.532.1693; Fax 575.646.1372; e-mail:
Home pages http://business.nmsu.edu/~dboje | Quantum Storytelling and Ontological Storytelling pages http://davidboje.com/quantum| see the new Film, Boje, D. M. (2012d). , Quantum Storytelling: Blacksmithing Art in the Quantum Age, Video accessed May 25, 2012 at http://www.youtube.com/watch?v=a7pm_mRwL-0 ;

June 2014 - Business Outlook article profile on D. Boje

Boje Family History pages (need password)

Some doctoral colleagues I mentor:

Krisha, Al, David, Carla & Wanda


Ted, Pamela, David, Carla & seated Al and Wanda

David Boje is an international scholar with over 23 books and 140 journal articles focused primarily on organizational storytelling research methods. His work has applications to strategy-as-process, ensemble leadership, socio-economic interventions, and organizational systems. He was Editor of the Journal of Organizational Change Management for 14 years, founder and editor of Tamara: Journal for Critical Organization Inquiry for 10 years. At one point, he sat on editorial boards of 17 journals. He was Co-Founder and Board Chair for the entire 25-year life span of the Standing Conference for Management and Organization Inquiry. He was past chair of the Academy of Management Research Methods division, winner of the New Mexico State University Distinguished Career Award, and currently holds NMSU's highest rank as Regents Professor. He also was awarded an honorary doctorate from Aalborg University in Denmark, where he is considered the "godfather" of their Material Storytelling Lab.

Boje has always applied his theoretical insights to practical activism in local communities. In the 1990's he worked with the Los Angeles Nickerson Gardens public housing community so that community members could have a greater role in the management and daily operations of the community. He helped to initiate the first-ever partnership between the Gardens, the Peace Corps, and Loyola Marymount University. After moving to his current home at New Mexico State University in Las Cruces, NM, he established a university-wide minor in Sustainability. He was named a "Mover and Shaker" by the local newspaper for his work with local arts groups.

More recently, Boje has worked with homeless veterans, helping them to establish a "Veterans Theatre" where the homeless themselves are the actors on stage performing crowd-pleasing and heartbreaking yet humorous stories. Boje helped them create the scripts from a patchwork of the homeless actors own real-life experiences. He also works with postdeployment veterans using his "Restorying" methods, sand tray props, and equine-assisted restorying techniques. His latest work is with the Coalition of Immokalee Workers (CIW), agricultural workers who have experienced abuses to the point of enslavement. He is a great fan of their highly-effective "Worker-Driven Social Responsibility" (WSR) and what he and Rosile call their egalitarian "Ensemble Leadership" approach to organizing. In 2017, Boje marched with the CIW in pouring rain to protest Wendy's Corporation continuing refusal to sign a fair-labor-practices contract.

In his spare time, Boje rides his horse Lucky Boy with wife and colleague Grace Ann Rosile, and creates art in his blacksmith shop with hot forging of iron as well as cold hammered copper wire and metal. Rosile and Boje's family includes a cat, 2 dogs, and 4 horses.

My new project:ONTOLOGICAL RESEARCH METHODS: As visiting scholar I travel worldwide doing faculty and doctoral student seminars in storytelling research methods known as 'relational process ontologies'. There are multiple ontologies that form ontologic-assemblages, particular combinations that co-constitute at least eight streams of 4th Wave Grounded Theory. see book due to publisher March 2018 http://davidboje.com/655/ORM_Storytelling_in_Action_BOOK/index.htm and annual Storytelling Methods Conference in Las Cruces http://davidboje.com/quantum

My three areas of community engagement:

SMALL BUSINESS CONSULTING. Mgt448/Mgt548 is one of two universities in US with MOA between NMSU and Lyon III University and ISEOR Institute to teach socioeconomic consulting. In past 19 years approximately 350 student teams have engaged in service learning with the community by providing free consulting services to business and non-profit organizations. This includes reversing downward spiral into strategic changes to unleash human potential in lowering costs and enhancing revenues by doing project implementation and evaluation. http://davidboje.com/448
VETERANS THEATER: Students are engaged with Veterans Theater project, doing service learning, working with veteran and homeless actors putting on original plays about veterans and homelessness issues. Along with GoFundMe the plays raise donation money needed to develop veteran tiny home ecological village on campus, another for homeless veterans and homeless in city of Las Cruces, and an equine-assisted psychotherapy and restorying treatment center for veterans and families, post-deployment family-reintegration.  I am part of community veterans organizations (Veterans Advisory Board to Mayor of Las Cruces; American Legion Post 10, Vietnam Veterans of America #431; American Legion Riders) to keep project opportunities happening. It produces interdisciplinary research and a faculty and student team developing research grants to NSF & DOD to bring our 'embodied restorying process' of working with veterans and family members for post-deployment reintegration to resolve being stuck in past traumas (PTSD, TBI, and/or military sexual trauma) in order to create new story of family system future. See Jeanne Flora, David Boje, Grace Ann Rosile, Kenneth Hacker (2016) Journal of Veterans Studies. http://veteranstheater.com
GREENING NMSU CURRICULUM: Engaged in 'Greening the Curriculum' at NMSU by being two-time Chair of Sustainability Council, working for reaccreditation of NMSU Gold Star rating for second time (received August 15, 2017), $50K grant for developing sustainability minors across all colleges, sustainability scholarships in each college, working a table at career fair in Fall and Spring to introduce employers and students to sustainability at NMSU, and bringing about the formation of our dream, a School of Sustainability at NMSU, in cooperation with City of Las Cruces and green companies locally. Student service learning projects in Mgt375v (sustainability audit, viewing wider world course) and Mgt 448/Mgt548 (small business consulting course) and Mgt375v (Leadership & Society viewing the wider world course) work on service projects such as bicycle sharing, tiny homes ecological village, City of Las Cruces sustainability audit, and so forth. http://greening.nmsu.edu

I am founder of Tamara Journal of Critical Organization Inquiry. I have published journal articles, many in top tier journals such as Management Science, Administrative Science Quarterly, Organization Studies, Human Relations, Academy of Management Journal, etc. It is said I am among the most cited scholars in the College of Business at New Mexico State University. In August 2017, 1509 papers recently uploaded to Academia.edu mention the name, "David M Boje". I am an amateur blacksmith and a shamanic practitioner and facilitates a monthly Shamanic Drumming Circle in Las Cruces, New Mexico. http://davidboje.com/shamanic My published work is available online at http://davidboje.com/vita.

Get on list for upcoming Storytelling Events




His newest book is Organizational Change and Global Standardization: Solutions to Standards and Norms Overwhelming Organizations.

The New Mexico Embodied Restorying Processes (ERP) Lab does work with veterans including the homeless veterans. ERP contributes to Material Storytelling by combining Little Wow Moments rediscovered from the past, and making new 'bets' of fore-seeing new 'moments of vision' of potential futures, and selecting a future to bring into actuality. Veterans are sometimes stuck repeating the past memories, and the Restorying is a way to move on to a 'New Story.' The New Mexico ERP Lab is also working with student veterans and their family members. ERP and Material Storytelling work are being combined with Equine Assisted Growth and Learning Events (EAGLE) using horses in work with veterans and their family members, followed by the sandtray work (http://davidboje.com/restorying).

I ama quantum and pragmatist storytelling philosopher, writer, and gives keynote speeches and workshops from Tasmania to Denmark on : What is antenarrative?; Quantum Storytelling; Ontological Storytelling Inquiry Method; Leadership and Story-Telling, Story-Listening, & Story-Noticing,

Ethical Living Story, Value-Based Critical Theory Ethics

; Slide Show: Making Your Life An Ethical Story in the Wild West

As Civic Engagement and service learning to students, he offers small business community assistance service learning projects such as the 2009 What's Art? Exploring the Creative Economy of Arts & Cultures Convention. See 'Calling All Storytellers' press release on Boje at College Website

on twitter.

I did an experiment and August 29 2016 and added ten older articles to Academic.edu. Next day by analytics jumped

What is the Boje living story? My dad is descended from Boje's and Haigh's, with roots going back to Prussian Kingdom, once part of Denmark and Germany. My mother descended from Eatons and Sheltons, and they are England. I can trace thse lineages back, on my dad's side to Christopher Coist Boje (1838-1881) of Holstein married to Elvina Fritz (1848-1938), but then its unknown. On my mother's side it goes back to about 1750 with Jonas Haigh from England, Charles Shaw born about 1775, and William Roebottom about 1700 from Yorkshire. The oral storytelling of the living story, is more about recent ancestor's recollections. I notice that most all the family lines were farmers, until The farms of August Boje and Catherine Esther, and of Raymond Eaton & Wilda Brown (daughter of Shelton & Tuttle of Goldendale, WN) did cease to exist. Then parents I knew, had left farming behind, and tried to settle in the post-industrial wave of globalization. I would like to resist globalization, to tame it, with my indigenous farming, ancestral roots.

As of April 4, 2018, I just returned from New Zealand, where I learned about Kaupapa Maori (methodology & theory) of storytelling that is about developing a counter-position to US/European grand narratives, such as globalization. I am headed to Scotland next, where I was told by living story-tellers, I have Scottish roots. I can find only a distant relative from Ireland (Delilah Davis. So I don't know whether to believe the family tree birth, death, census, as far as that goes, or to believe the oral telling.

I am writing a book about globalization and indigenous ways of knowing (IWOK), traveling to 8 countries, in search of intergenerational IWOK. Long ago, in a land far way, we were all indigenous, and for many of us, the ancestral memory of IWOK has faded away. There is an ancestral memory that gets clouded and has many untold story secrets. I am doing an antenarrative process, exploring the BEFORE, BENEATH, BETWEEN, and BETS on futures related to BECOMING, I call forecaring. There is some memory in my flesh, bone, blood, and 32 trillion molecules that extends thousands of years. The antenarrative process weaves inter-generationally. The Boje's, Eaton's, Shelton's, Haigh's, Royce's, Tuttle's, and Albang's and so many more, did migrate from places in Europe, across a time horizon of centuries, winding up in the Washington State. And almost everyone of them had a small family farm, and a few were blacksmiths, like my great grandfather Robert Shelton, of Goldendale, Washington.

I believe we can understand the waves of globalization by looking at the ancestral movements, the sifting fragments of living stories, and the relationship people once had to place, to land, to family in a place.

Who is my audience? I am in the storytelling profession, using storytelling methodology, crafting storytelling theory, and all about storytelling praxis. My audience is anyone, like me, seeking to find their indigenous roots, wondering how we got swept up in waves of globalization narratives. IWOK can counter the Western ways of knowing (WWOK). Looking at my family tree, what jumps out, for me, is generations of people, living as slaves to the masters, within the master narrative of globalization. IWOK is here in my backyard, in New Mexico, and we have an annual storytelling conference with IWOK scholars, and storytelling scholars critical of the received globalization narrative. See http://davidboje.com/quantum for info on Annual Quantum Storytelling Conference. We call it 'quantum storytelling' because there is something embodied about storytelling, its about place/space, time, and a kind of mattering, if you like, a spacetimemattering current that runs intergenerationally through our lives.
Print Edition Book released Aug. 1 2017 Order from Amazon.com; Look inside.

ISBN- 13-978-1521963470

ISBN-10: 1521963479

Kindle version

Theaters of Capitalism: Creating Conscious Capitalism

[Print Replica] Kindle Edition

ASIN: B074G5TCX

---

Book to be released end of 2017 by Emerald Press edited by David Boje and Mabel Sanchez (who appears on new cover)

Handbook of Management and Organizational Inquiry edited by David Boje and Mabel Sanchez, to be released end of 2017 by Emerald Press

and

Storytelling in Action: Organizational Research Methods

David Boje

To be released end of 2018 by Routledge

Available from Routledge May 2014; See Reviews; See Book Signing Flyer

2014 BOOK edited by David M. Boje and Tonya Wakefield

Available from Amazon 2014

Cambridge Scholars Publishing Ltd is registered in England. Reg. No: 4333775; VAT No: 108280727




(2010) Dance to the Music of Story: Understanding Human Behavior through the Integration of Storytelling and Complexity Thinking

Written/Edited by: David M. & Ken Baskin 2010, ISBN 9780984216529 (296 pages), Emergent Publications Order Here; About authors & content
SOFTBACK: $44.95
ELECTRONIC: $29.95

(2011). Storytelling and the Future of Organizations: An Antenarrative Handbook (London: Routledge Studies in Management, Organizations and Society) [Hardcover]; Authors & Table of Contents

David M. Boje

(Editor)

(2011). The Routledge Companion to Organizational Change [Hardcover]that The Routledge Companion to Organizational Change, has been published. Ships from and sold by Amazonite see Routledge website for summary

David Boje (Editor), Bernard Burnes (Editor), John Hassard (Editor).
Hardback: 978-0-415-55645-3: October 2011: $195.00 – £115.00
... offers a comprehensive and authoritative overview of the field. The volume brings together the very best contributors not only from the field of organizational change, but also from adjacent fields, such as strategy and leadership. These contributors offer fresh and challenging insights to the mainstream themes of this discipline. Read More

2008 Storytelling Organizations, Sage, 2008 Order here ; Press Release ; Book Review ; Published book review 2009

Click image for access to Amazon site, Book: Narrative Methods... Sage, 2001 Order Here

2008 Critical Theory Ethics for Business & Public Administration | Information Age Press; Order here ; Amazon Order Here ; see larger image

ISBN-10: 159311785X
ISBN-13: 978-1593117856s

Workshops Available . The Ethical Optimist Living Story, and Value-Based Ethics and Story Ethics.

Click image for access to Amazon, Book: Postmodern Management & Organization Theory, Sage, 1996 Order Here

2008 Managing in the Postmodern World: America's Revolution Against Exploitation 2008 Charlotte, NC: Information Age Press (re-release of the 1994 book) order here

Workshops Available Story Leader Assertiveness

2008 Managerial Psychology
Three-Volume Set
Edited by:
Yochanan Altman , Frank Bournois &
David M. Boje Series:
SAGE Library in Business and Management Order Here

2009 - WORK AND ORGANIZATION: THE AESTHETIC DIMENSION -

Written/Edited by: David Boje, Adrian Carr & Philip Hancock
2009, ISBN/ISSN 9780981703251 (212 pages), ISCE Publishing. Web site for Work and Organization book.

Boje, D. M. (2012d). , Quantum Storytelling: Blacksmithing Art in the Quantum Age, Video accessed May 25, 2012

Click image for E:CO, Emergence: Complexity and Organization, Special Double Issue: Complexity and Storytelling (Volume 7, Numbers 3 & 4, 2005), guest editors Ken Baskin and David Boje. Order Here.

Click image for Amazon site for Book: The Passion of Organizing - Copenhagen, 2006 Order here
Click image for PDF - Thin Book of Organization Theatre 2007 Download Free version Here

The video presents the eleven D's of Quantum Storytelling from an ontological standpoint.
1. Directionality
2. Datability
3. Duration
4. Disclosability
5. Destining
6. Deployment
7. Dwelling
8. Deseverance
9. Drafts
10. Dispersion
11. Detaching

Joe T. Meier directed the video, Aron Hethcox did the sound, and Jones Huerta the choreography.
---
YOUTUBES
Questions About Organizational Storytelling, Linguistic Sensemaking, Antenarrative?
David M. Boje is one of the leading scholars of organizational storytelling. I encountered large bodies of his work while in my PhD program, and I must admit it takes me an enormous amount of effort and brain power to wrap my head around his research and concepts. But he has a prodigious Web presence, so there's no lack of material to try and understand.
An Antenarrative website is in the works with these sorts of questions::
Does restory unearth submerged narrative/antenarrative patterns?
Derrida and deconstruction vs storytelling and antenarrative?
What academic pursuits have been facilitated by antenarrative based story analysis?
How do we explain zen koans in linguistic or antenarrative terms?
End and means, is an END an ANTEnarrative or not?
The limits of language and sensemaking?
What is NOT an antenarrative ?!?
Experimental methods for antenarrative research?
What is the difference between story and narrative?
The concept of "antenarrative" is one of Boje's most significant contributions to organizational storytelling research.
Antenarrative is defined as a 'bet' on shaping the future, and a 'before' a full blown stable narrative has been constructed.
For first use of term 'antenarrative' see: Boje, D. M. 2001. Narrative Methods for Organizational and Communication Research. London: Sage.
Antenarrative is defined as "non-linear, incoherent, collective, unplotted, and pre-narrative speculation, a bet, a proper retrospective narrative with Beginning, Middle, and End (BME) can be constituted" (Boje, 2001: 1). Antenarratives are "in the middle" and "in-between" (Boje, 2001: 293) refusing to attach linear BME coherence. Whereas, most BME narratives and narrative fragments are retrospective (backward-looking) antenarratives are more often prospective (forward-looking). BME Narratives must achieve coherence, developmental plots required by narrative theorists (Gabriel, 2000:20, 22; Czarniawska, 1997: 79, 98; 1998: vii, 2).
Routledge is releasing the 2011 book: Storytelling and the Future of Organizations: An Antenarrative Handbook, David M. Boje, Ph.D., Editor
---
See Breakdown of Ethics Publications:
Click for access to recent article applying storytelling to leadership (with Carl Rhodes).

Boje's focus is on study of ethics, critical theory ethics, feminism, and power of language, discourse, and storytelling and antenarratives in organizations (see

Caling All Storytellers

). His reputation corporate social responsibility ethics in academia and industry is widely known and respected in the

United States

and internationally. Professor Boje is described by his peers as an international scholar in the areas of narrative, storytelling, postmodern theory & critical storytelling ethics. He has published 17 books and 124 articles in journals, including the top-tier journals such as

Management Science, Administrative Science Quarterly, Academy of Management Journal, Academy of Management Review, Leadership Quarterly,

and the international

Journal of Organization Studies

.

Painting by Virginia Maria Romero appears on back cover of the STORYTELLING ORGANIZATIONS book

David - Published Fall 2009 BY Charlotte Tallman in Las Cruces Magazine

PHOTOGRAPHY
Bill Faulkner

We could all learn a few things from Dr. David e, including the results from years of research that taught David how to take a narrative which is negative, distorted or unfair and find a more truthful and affirmative alternative.

What David discovered has impacted businesses, entrepreneurs, students and public administration in an increasingly positive way.

"As a university leader, I am provocative, and try to stand up for the underdog," says David, who holds an Endowed Bank of America Professorship within the College of Business at New Mexico State University. "I do what is called critical storytelling, where I seek to balance the official narratives of power with the living stories of the little people – often left out of history."

David's research and work is vast, creative and utilized around the world and his reputation in academia and industry is widely known throughout the United States and internationally. As an international scholar in the areas of narrative, storytelling, postmodern theory and critical ethics of answerability, David has published nearly 100 articles in journals, including Management Science, Administrative Science Quarterly, Academy of Management Journal, Academy of Management Review and the International Journal of Organization Studies. David has also been awarded prestigious titles, including an Arthur Owens Professorship in Business Administration in the Management Department at NMSU, University and College Teacher of the Year four times at Loyola Marymount and a Creative Scholar Award at NMSU in 2008.

"My greatest honor is riding my horse, Silverado, and staying in the saddle," David says. When he is not riding, he is researching, learning and teaching with the same wit and humor that motivates his students and colleagues.

David created an 'antenarrative', or a bet on what is shaping the future before it becomes one more fossilized narrative.

"An ante is a bet and it's a before," David explains. "My focus is storytelling, how it shapes the past and future in business, public administration and arts entrepreneurship."

David got involved in his profession when he noticed in his quantitative research there was a need for stories to make sense of the data, and to make an interesting write-up.

"As I started treating storytelling as a methodology of inquiry I discovered it is really applicable to qualitative and quantitative. You need storytelling to put facts and metaphors, or models, together into a theory."

David's recent book, Storytelling Organizations, explores the stories people tell themselves and others at work. Instead of focusing on understanding stories about what happened "once upon a time, a long time ago" within an organization, David takes a different approach by seeing what people are telling themselves about the future. His interest focuses on how stories interplay with needs to stay within ethical and emotional comfort zones, and how multiple narratives emerge and evolve in rapidly changing situations.

"At age 61, I notice I spend more time helping other faculty and students around the world develop their storytelling methods, theory and research projects," David says. "My biggest influence was to look at how storytelling is a telling between the lines, where the reader is expected to fill in the blanks. Instead of once upon a time telling, looking at the complex collective dynamics of many storytellers has been my main contribution."

To David, a company's motto, architecture of corporate headquarters and even the business strategy all become part of the organizational story. Studying the story then becomes a new and fertile way into understanding strategy. Once a story is understood, David looks at 'restorying' or a way to take a narrative which is negative, distorted or unfair and find a more truthful and affirmative alternative. This simple but effective technique can be used by businesses and organizations to change the future of their story.

David is actively involved in Talking Stick, a project three years in the works that shows collective storytelling processes are being used to improve the creative economy of the arts and culture organizations in Southern New Mexico. David also actively worked on a What's Art? Exploring the Creative Economy of Southern New Mexico Conference held October 2nd and 3rd, 2009 at Alma de Arte Charter School and the Pioneer Women's Park in Las Cruces.

David, who met Professor Grace Ann Rosile at a conference, applied to NMSU so the two could pursue their careers and raise their Arabian horses. Currently, David is working on a new book, Storytelling the Future of Organization: Antenarrative Handbook.

"It's an amazing challenge to theorize and study 'storytelling the future'. Most narrative work has been about the past, and using that to extrapolate what the future might be. But such linear projections are not very accurate. We are looking at some alternative ways to story tell the future," David says.
On average, Professor Boje's articles and books are cited 586 times by other scholars, with an average of 21.7 cites per item. By last count, David Boje had garnered 3565 total citations to his research (Citation analysis conducted on February 18, 2010 on Google Scholar). His most cited work (routinely cited on average by scholars 690 times) is: Boje, D. M. 1991. "The storytelling organization: A study of storytelling performance in an office supply firm." Administrative Science Quarterly, Vol. 36: pp.106-126.
His 1995 Academy of Management Journal article on Disney is cited 515 times, and his Narrative Methods book (2001) 576 times. Click here for Google Scholar listings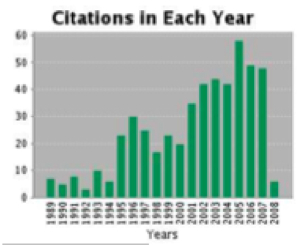 Citations index from ISIS Web of Knowledge 1989 to Feb 2008
Most recent ISIS Cites for Boje is 586 cites, average of 21.7 cites per item
Dec 28 2012 results:

See Full Google Scholar Publishing profile
David's total number of citations (3565 times) exceeds the average number of citations for the Organization Behavior/Management faculty at the top-ranked US school: a study of total citations at 51 major public and private business schools whose faculty had PhDs and as ranked in BusinessWeek, US News and World Report, and the Financial Times, showed that the University of California-Berkeley topped the list of most-cited faculty with its OB/Management faculty having 1499 life-time citations on average by over50%.
His international research reputation in storytelling stands upon several major contributions. His 1991 Administrative Science Quarterly article empirical study introduced stories how stories as the chief sensemaking device of organizations, showed how they are rarely told with beginning, middle, and end, and instead are dispersed across conversation in tersely told fragments. His 1995 Academy of Management Journal article is an empirical study of Disney showed the relationship of official storytelling to workers' counterstories, and that this is going on simultaneously across multiple sites where the meaning derived depends upon the network of story rooms one has participated in.
As a measure of his influence, David's articles have been cited consistently longer than a decade since their publication. Indeed, his 1991 ASQ article, "Organizations as Storytelling Networks", garnered over 690 citations; and his 1995 AMJ article, "Stories of the Storytelling Organization", received over 515 citations. The citing half-life for the journal is the median age of the articles the journal cited in the current year. Half of the citations in the journal are to articles published within the citing half- life. A citation analysis reveals that for both ASQ and AMJ, the cited half-life of articles in the journal is less than 10 years. David's articles in these top journals have been cited over twice as long a period as the average article in these journals. As an indicator of his abiding influence on storytelling and narrative, these two articles continue to be cited till today.
He is past division-chair of the Research Methods Division of the Academy of Management, and incoming President of the Board of Governors of the Standing Conference for Management and Organization Inquiry (http://sc-moi.ning.com/).
David is founding editor of Tamara Journal of Critical Organizaiton Studies (http://TamaraJournal.com). He is associate editor, and past editor (1989-2003) of the Journal of Organizational Change Management, associate editor (2003-2009).
Professor Boje served simultaneously on 17 editorial boards, some for as long as 20 years. On Dec 17th he turned 61, decided balance is important, and on January 22nd he stepped off of all editorial boards to focus on his writing and editing the Tamara Journal. He was an associate editor for International Journal of Qualitative Research in Organizations and Management (2005-2009). He served on Journal of Qualitative Research in Accounting and Management, Management Digest, Management Decision Journal, Journal of Management Inquiry, M@n@gement, Organization Studies (UK), Employee Responsibilities and Rights Jounal (ERRJ), EJ-Radical Organization Theory, Emergence: Complexity & Organization Journal and Management (http://emergence.org/), Management Spirituality & Religion (http://www.jmsr.com/board.html), Journal of Business and Society, Management Science Review (France), Open Management Journal (Bentham Publishers),Qualitative Research in Accounting & Management (QRAM), Meaning (in) Organizations Quarterly and is also on the international advisory board for the journal Critical Discourse Studies (http://www.tandf.co.uk/journals/titles/17405904.asp), and Journal of Management Studies & Research –IJMSR. David is also a member of the Scientific Committee of RSDG (Revue Sciences de Gestion), a Management Science journal published quarterly in English, French and Spanish) and Editorial Board of the Sage Encyclopedia of Case Study Research.
In the past, Boje served on editorial boards of Academy of Management Review, & Organization (1997-2009), as well as editorial board member of special projects such as, Handbook of Organizational Research Methods David Buchanan and Alan Bryman (Editors), Sage Publications, 2008.

's recent books include Storytelling Organization (Sage, 2008, see http://storytellingorganization.com) Critical Theory for Business and Public Administration (2007, Information Age Press), The Passion of Organizing (with Brewis, Lindstead & O'Shea, Liber & Copenhagen Business School Press, 2006), and Darsø, L., Meisiek S. and Boje, D. (Eds.). Thin Book of ORGANISATIONAL THEATRE. Text and photo © 2007 Learning Lab Denmark, The Danish University of Education. Click here to download on line version of the Thin Book. His book, Narrative Research Methods for Communication Studies (Sage, 2001) is a widely used text in teaching qualitative methods to Ph.D. students. His books on postmodern theory of management and organization continue to be widely cited: Managing in the Postmodern World: America's Revolution Against Exploitation (1993, 2000 with Bob Dennehy) and Postmodern Management and Organizational Theory (1996 with Robert Gephart & Tojo Thatchenkery). Theatres of Capitalism is forthcoming (SF, CA: Hampton Press). Information online at http://business.nmsu.edu/%7EdBoje/theatrics/theatrics.htm).
His 2001 Narrative Methods book (292 citations) invents the term, antenarrative, the double meaning of a pre-story and a bet that it can transform behavior. His 2005 co-authored article in Leadership Quarterly is a contribution of story to ways leaders in the fast food industry are socially fashioned. His 2008 co-authored article in Critical Discourse Studies is how stories of Sam Walton continue in annual reports, long after his death. In a series of articles Boje traces the shifts in story sensemaking and antenarrating of the Enron Corporation. His work on Nike's storytelling of its labor practices is widely cited. In sum, his story research work is considered foundational in leadership, ethics, postmodern, poststructral, discourse, feminism, labor process, and communication studies. His reputation for storytelling contributions in academia and industry is widely known and respected in the United States and internationally. Professor Boje continues to have an active presence in international scholarship. He was keynote speaker at the Discourse as well as Storytelling conferences in the United Kingdom, and has been a visiting scholar/speaker at universities in the United States (e.g., Rhode Island, CA, CO), in Europe (Netherlands, France, Switzerland, Austria, and the United Kingdom) as well as down under (Australia, Tasmania, & New Zealand).
Boje and his wife Grace Ann Rosile, also an NMSU Management professor, to establish an exchange program for NMSU students with the Jean Moulin University of Lyon III and ISEOR Institute in Lyon France. This was the second year in which NMSU business students took some of their NMSU-required business courses in Lyon. NMSU business senior D'Anne Chapman said she enjoyed meeting other students from many countries in her Lyon classes this summer. She was taught by an international group of professors (who taught classes in English), and she was amazed at the quality of the
restaurants in Lyon. Boje and Rosile are hoping other students will follow in their footsteps and experience study abroad. They are sure to return with new insights and lots of great stories to tell!
Twenty years have passed since Leavitt, Pondy and Boje's seminal Readings in Managerial Psychology 4th edition (1988) put together a representative collection of articles on the subject and we believe that the time is ripe to attempt a current 'take' on managerial psychology. Handbook of Managerial Psychology (3 Volumes); Editor(s): Yochanan Altman (London Metropolitan University), Frank Bournois (Université Paris (Pantheon-Assas)) and David Boje (New Mexico State University); ISBN: 978-1-4129-4490-8; Publication date: February, 2008; Publisher: SAGE Publications, London.
A current book project, Critical Theory for Business and Public Administration Ethics (expected publication in 2007), applies the critical theory work of Frankfurt scholars (Adorno, Benjamin, Fromm, Horkheimer, Marcuse) to ethics. The book calls for an ethics of answerability (a Bakhtinian critical theory perspective) to business and public administration, which currently has non-answerable ethics in business and public administration (i.e., ethics of conviction in its content and formal ethics approaches is unanswerable to changing the root causes of systemic ethical failures).
Professor Boje continues to have an active presence in international scholarship. He was keynote speaker at the Discourse as well as Storytelling conferences in the United Kingdom, and has been a visiting scholar/speaker at universities in the United States (e.g., Rhode Island), in Europe (Netherlands, France, Switzerland, Austria, and the United Kingdom) as well as down under (Australia & New Zealand).
The New Mexico State Univeristy Management Department has one of the most impressive tier one publication records of the university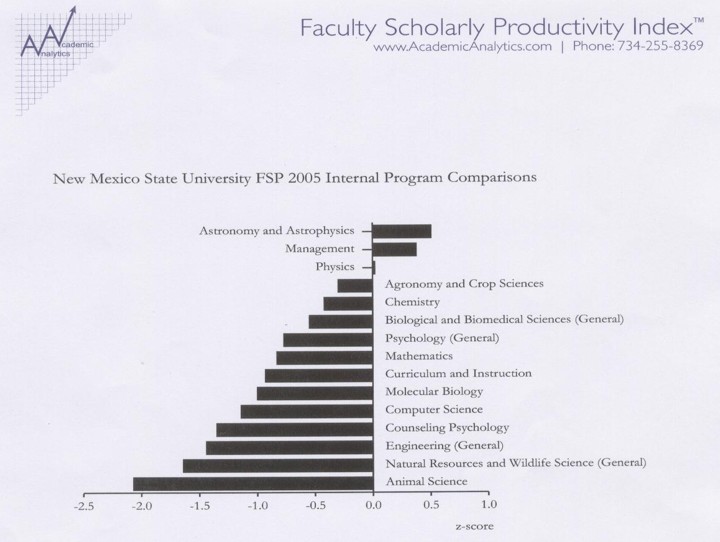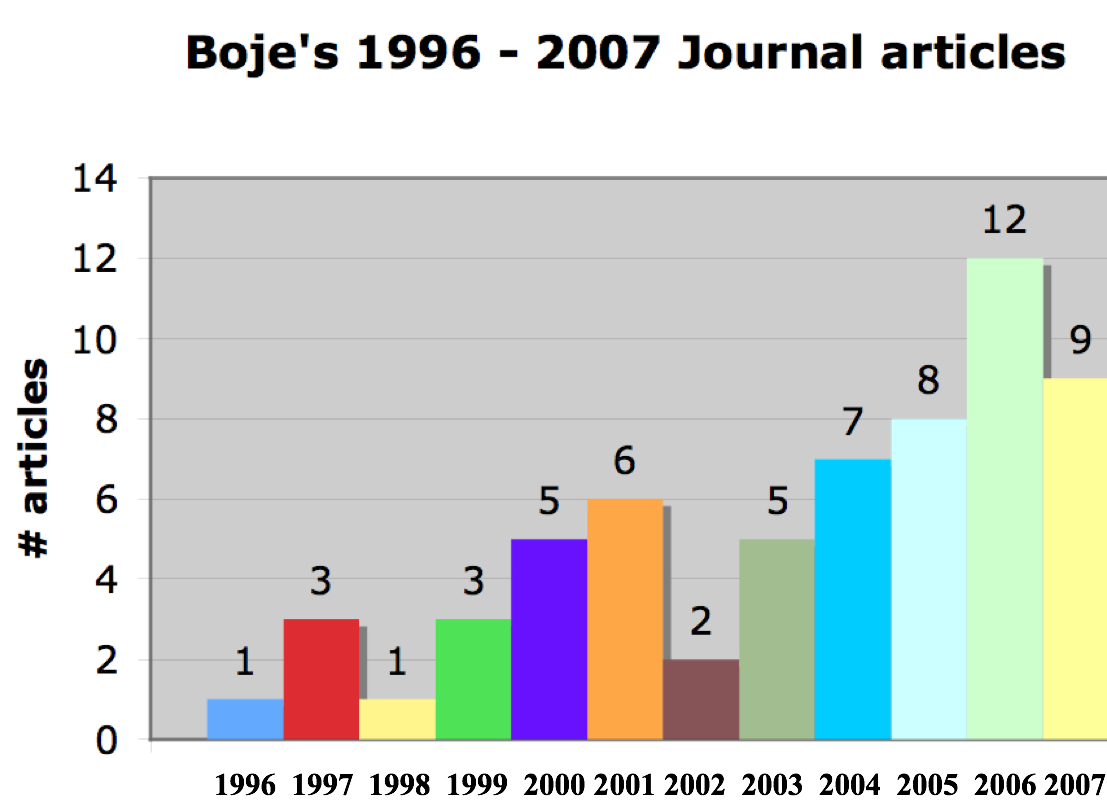 Above figure represents # of articles published since being at New Mexico State (63 articles, with an average of 4.9 articles per year.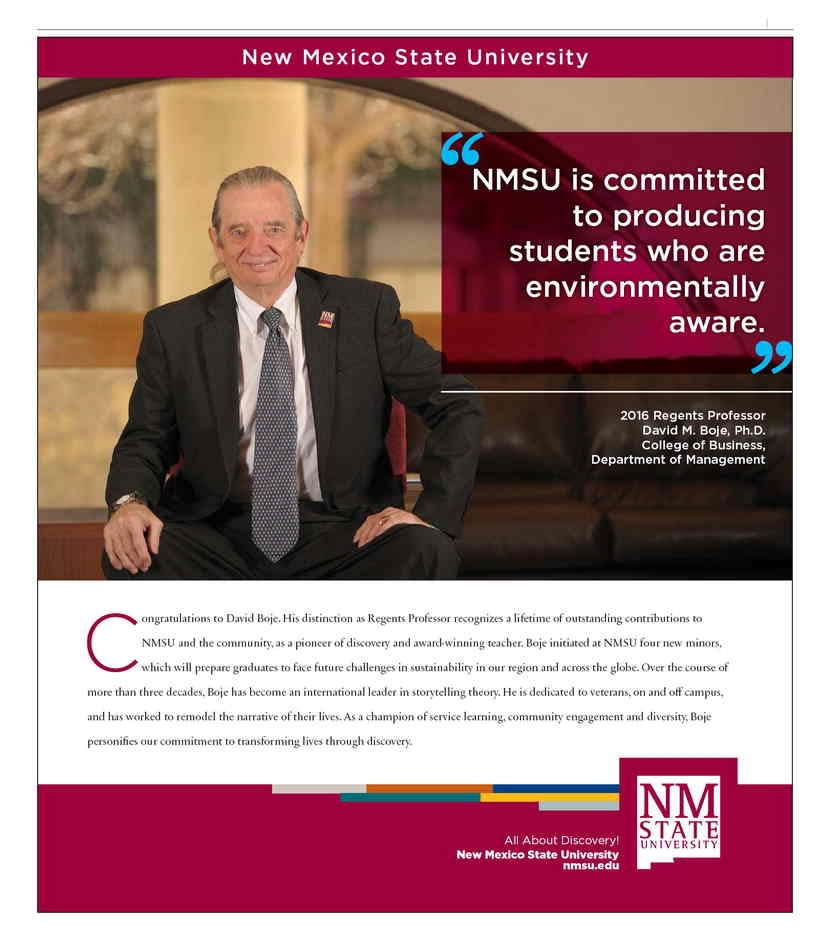 ---
Degrees

A.Sc

. 1972 Burlington County College, Liberal Arts
B.Sc. 1974 Rider College, Organizational Behavior & Marketing
Ph.D. 1979 University of Illinois, Organizational Behavior

Membership in Professional Associations & Scholarly Societies

International Academy of Business Disciplines

Phi Beta The Kappa, 1971-1972

Society for Advancement of Management, 1971-72

Marketing Scholars Society, 1974

Academy

of Management Society

, 1977-present

Delta Sigma Pi Business Fraternity, Spring 1990-present

Organizational Behavior Teaching Society, 1980, 1988-present