MENU of Project Options
Policy: Each student is responsible to get a small business consulting application to a potential client. We assemble all the good ones in our next class meeting and develop our top 10 clients for the semester. No more than 3 students per team is strict rule because large teams have problems with scheduling and with allocation of roles. No pairs of students. You may elect to work alone.
Bring these items
Print out SMALL BUSINESS APPLICATION (keep signed copy for your report)
Print Confidentiality Agreeement (you sign it and give to client, put copy in your report; client does not sign this one)
CLIENT LIST THUS FAR (please gather more potential clients to add to list):
1 Jerry Crenshaw's fabulous invention.
Jerry Crenshaw's FABULOUS INVENTION
575-520-1949 cell
Jerry says to call his cell phone, and he will talk with you about his needs.
https://www.tclamps.com/ to see his product
He wants help to develop the website. He is putting up 3 videos and has them ready, and may be up by time you read this
https://nuwber.com/person/563a79b798f8a849c1a32201
2. George Mendoza wants to branch out his buisness to publish some books. He has a book already, and is one of the top painter-artists in New Mexico. See his business plan for
Spirit Man Publishing Group, Inc.
A Division of Wise Tree Foundation, Inc. 
and his journey pdf,
3. Cynthia Madden' Magazine and Horse Registry <cynthia.madden@gmail.com> has 501(c)5 (non-profit agricultural society) horse registry. Problem: For several years, we have had a steady drop in members (income). Other income comes from registration fees, etc. While we were at least breaking even, we are now operating at a deficit. The horse industry, in general, has experienced drops in numbers but as the economy recovers(?), this has improved for the larger registries, e.g. Quarter Horses. 
Fjords are most popular in the Upper Midwest, northwest and in the northeast. They are infrequently found in the rest of the country. Trained horses are selling well but breeding is down. Since it is hard to sell a foal or young untrained horse, breeders are reducing their breeding programs. We publish a very popular quarterly magazine which is highly prized by the membership. But the magazine's costs are supplemented by membership- dues and I think we need to seriously improve our advertising in a day where horses are more frequently sold over through electronic, not print, media. We also need to consider a smaller issue to cut publication costs. OBJECTIVE: I think we need to develop a short & long range operating and marketing plan to enhance our organization's image and operating strategy. I have been Treasurer for three years and have been somewhat unsuccessful at getting our board and Executive Director to understand the seriousness of our position, though I have been doing quarterly fiscal projections to try to get this point across and think that I am finally having some impact. 
4. Jim Rodgers phtography business -
5. Jim Rodgers and Mark Spiess EBAY BUSINESS -
6. CAMERA for Raising money for Animals at NMSU (birds, hawks, etc.) Point of Contact: Coop - get camera installed at Pond by Gerald Thomas-- see geobird@ad.nmsu.edu (Carol Campbell dept head of geography for more on who to talk to next to get this running. then get a donate button authorized to make non-profit business happen
7. BINGO at American Legion Post 10 -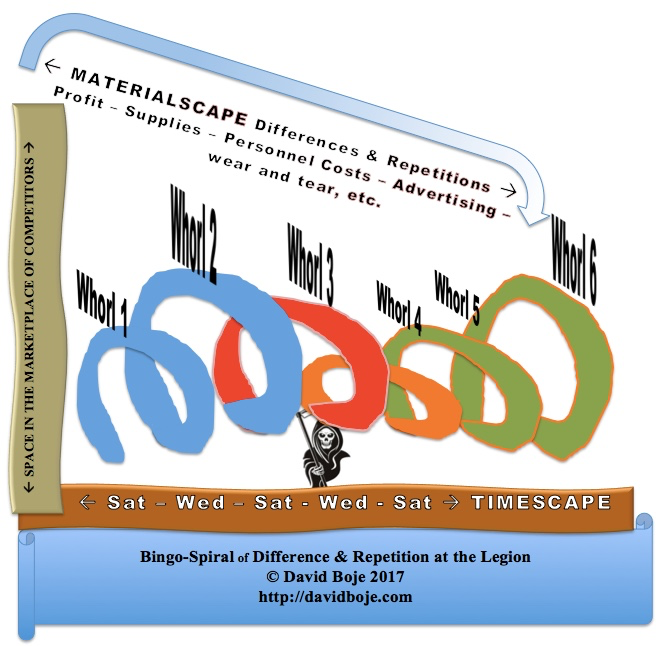 Bingo-Spiral is having some trouble sustaining profit. Need a team who is available (each person) to go to Bingo, either Sat or Wed, and observe, play if they like, to get understanding of the Bingo-Spiral, and how to develop the business so it is stable. Consulting team will do presentation to American Legion part way through semester and at end, giving recommendations and report to Executive Committee, and 2 managers of Bingo (see Boje write up on Bing-Spiral)
7. VeteransTheater non-profit business to finance Tiny Homes startup Point of contact Boje and Ernest Ramey (works at St Lukes health clinit in Community of Hope campus). Develop ECOLOGICAL VILLAGE tiny homes'; Mayor of Las Cruces says city has inherited mobile home park, that may or may not suit the purpse. See Mgt375v team working on Tiny HomesPresident of Veterans Theater - Ernest Ramey see main website http://veteranstheater.com
VISION
https://www.gofundme.com/p-47ck has raised $4,167 of its $6,000 goal.
Tiny Homes Taking on Consumerism
April 4 2016 - presentation on Eco-Village for Veterans to the City Council of Las Cruces see PowerPoint Slides.
April 10 2016 - Tiny homes subdivision proposed to city officials article by Steve Ramirez, Las Cruces Sun-News7:04 p.m. MDT April 9, 2016
September 15, 2016 - Veterans Eco Village presentation to Arrowhead 16 September 2016
Step 1: Each person in class FIND A POTENTIAL CLIENT, then we list them on board, and make choices of team projects as a class. PROJECT OPTIONS ARE FIRST COME, FIRST TO REGISTERED IT WITH YOUR INSTRUCTOR GETS IT
Note: Projects must be about relationships and not just efficiency of sustainability in pure economics, energy, etc. Build a positive collaborative relationship by having multiple visits to their place, and invite them to be guests in the class. Projects cannot be with your own business; must consult to another's business; can consult to family buisness if you are not employed currently.
STEP TWO: Print out your Major Tools - BEFORE YOU GO TO THE CLIENT WITH AN APPLICATION
BRING THESE 6 FORMS since you will train client how to use them:
MANAGEMENT TOOL in WORD YOU NEED
STEP THREE: Once you Have a Client, please make a PROJECT NOTEBOOK called "Piloting Logbook" and put following forms and these items in it:
Step FOUR: Learn 4 Phases of your project
You will do Diagnosis-Project-Implementation-Evaluation (DPIE) 3 times (pick small changes that client collaborates with you to do):
Phase I: Diagnosis-Project-Implementation-Evaluation (DPIE) including (Hidden Costs/Hidden Revenue charts); submit mid-term report - see Mid-term Check List
Phase II do the Mirror Effect meeting (show client excerpts of fieldnotes, hidden costs and revenue calculations, make your expert consultant recommendations)
Phase III (Project) - carry out your proposed Project
Phase IV do 2nd and third round of DPIE with Mirror Effect and Hidden Cost/Hidden Revenue chart each time
Phase V (Final Report) - present and turn in your final report - see Final report Check list