SYLLABUS MGT 388v: Leadership In Society
| | | | |
| --- | --- | --- | --- |
| Mondays | 1430-1700 PM | GUTHERIE | Room 100 |
Instruction begins Wednesday, August 15 ; Holidays Monday, September 3 Labor Day & Monday – Friday, November 19 – 23 Thanksgiving Break
Exam Week Monday – Friday, December 3-7
Last Day of Classes
Friday, December 7
You challenge is to develop and live your own LIVING STORY of LEADERSHIP during next 16 weeks that CHANGES one thing inGLOBAL SOCIETY in a documented way by picking one of UN Goals and doing a Pop-Up Event as a team.

To Begin, Write your personal Living Story. To find out watch a 4 minute YouTube

then please read this Study Guide: what is a living story
Your Leadership Project must be within 9 Planetary Boundaries to prevent 6th Extinction Event
| | | | | |
| --- | --- | --- | --- | --- |
| | _ Boundary 1. Climate Change | _ Boundary 2. Biodiversity Loss | _ Boundary 3. Biogeochemical (phosphorous change | _ Boundary 4. Ocean Acidification |
| _ Boundary 5. Land Use Crisis | _ Boundary 6. Fresh Water Crisis | _ Boundary 7. Ozone Depletion | _ Boundary 8. Atmospheric Aerosols | _ Boundary 9. Chemical Pollution by Plastics & Heavy Metals |
Your Team's Leadership Project Picks One of the 17 UN Sustainable Development Goals to TRANSFORM Some part of Society with True StorytellingPop-up event.
You are to transform the XYZ in-the-box leadership into what we call Ensemble Leadership (together we are all leaders).
HERE IS THE TRADITIONAL IN-THE-BOX Way of implementing 17 UN Sustainable Development Goals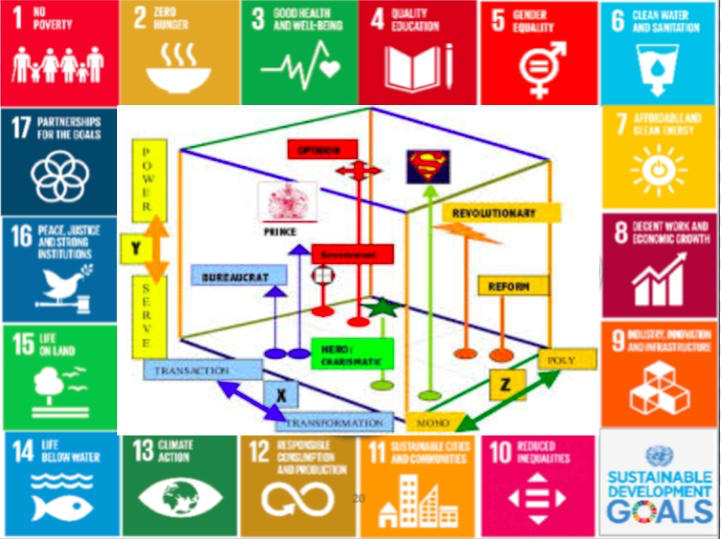 The Old Ways of Leadership In-The-Box wont't get the job done. Here is a better way that is based in Ensemble Leadership.
Read more about each goals and subgoals
A Pop-Up Event includes some displays, an invited audience, and invitations for some audience members to cross the invisible boundary between 'spectator' and 'actor', walk onto the stage and become what Augusto Boal calls 'spect-actor'.
Here is a project that we could do together. You as Living Story Leaders, Can Help NMSU become a signatore to the 17 UN Sustainable Development Goals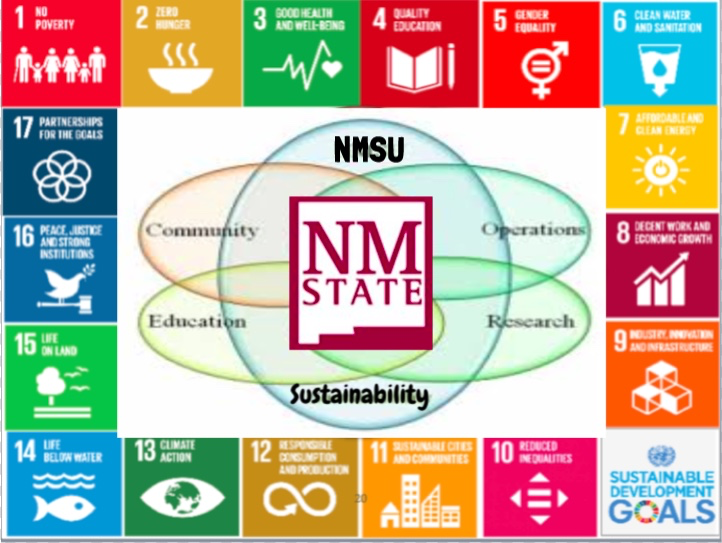 HIGHER EDUCATION SUSTAINABILITY INITIATIVE

The Higher Education Sustainability Initiative (HESI), is a partnership of UN agencies and initiatives that have teamed up to to provide a platform for Higher Education Institutions to engage and contribute to the UN Sustainable
Development Goals, enabling the exchange of best practices and educating future leaders on sustainable development.
All higher education institutions may join the network freely. Higher education institutions part of HESI commit to:
Teach sustainable development across all disciplines of study,
Encourage research and dissemination of sustainable development knowledge,
Green campuses and support local sustainability efforts, and
Engage and share information with international networks.
Join by filling in the online application under "Register Initiative" https:// sustainabledevelopment.un.org/ partnerships/hesi
There are more than 300 higher education institutions from all over the world that are members of HESI. NMSU could be #301, and #1 in New Mexico.
Mission
OUR LEADERSHIP & SOCIETY MISSION
1. Educating socially sensitive and responsible leaders in cross-disciplinary and specialized programs.
2. Producing, questioning and disseminating leadership knowledge to think large and innovate solutions to 17 UN Sustainability Goals.
3. Creating the conditions for leadership bridging academic, socio-economic and institutional Worlds.
Schedule | Image Theatre | Invisible Theatre | Forum Theatre | Purpose & Process of Leadership | SEPTET | LEAD OUT OF BOX | XYZ LEAD IN THE Box